Basement Waterproofing and Foundation Repair in Lehigh Valley, PA
Cities located in the Lehigh Valley region of Pennsylvania receive above-average amounts of rain and snow and have silty loam soil that is easily washed away. This puts your foundation at risk, but BQ has world-class experience and solutions that keep your home protected.
Services
Date & Time
Contact Info
Complete
Schedule Your Free Inspection
What do you need help with?
Philadelphia Local Office
BQ Basements & Concrete
106 Park Drive
Montgomeryville, PA 18936
(215) 774-2464

Hours of Operation
Monday – Friday: 7 am – 11 pm
Saturday: 8 am – 11 pm
Sunday: 10 am – 11 pm
Award-Winning Solutions in the Lehigh Valley Area
BQ Basements & Concrete specializes in basement waterproofing, foundation repair, crawl space encapsulation, and concrete lifting services. Our top priority is providing trusted solutions and personalized, timely service to homeowners.
Why Homeowners Choose BQ Basements & Concrete
When a home's foundation, basement, crawl space, or concrete is damaged, homeowners want service they can trust. BQ Basements & Concrete, a Groundworks Company, has been providing that trustworthy service to homeowners in the Lehigh Valley since 1997. With a long list of satisfied customers and thousands of positive online reviews, our reputation has earned us a favorable rating with the Better Business Bureau.
BQ uses industry-leading solutions to repair any foundation or concrete issues your home might be facing. No job is too big for us, and we'll never shy away from a challenge. To experience the quality service our company has provided for more than 25 years, contact us today to schedule a free inspection.
Visit Company (Opens in New Tab)
Visit Company (Opens in New Tab)
Our Services for You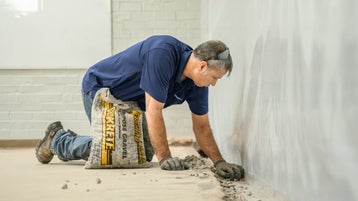 Basement Waterproofing in Lehigh Valley
Basements are put at risk in areas with high amounts of precipitation. Communities in the Lehigh Valley region are no exception, receiving around 47 inches of annual rain and 38 inches of annual snow. The region's silty soils are easily eroded, which puts stress on your basement walls and leads to cracking and leaking. Over time, water floods into your basement and causes extensive water damage. Internal plumbing leaks can also cause issues in your basement. No matter where the water comes from, Baker's keeps your basement dry with vapor barriers, dehumidifiers, and interior drains.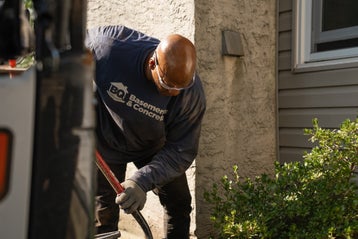 Foundation Repair in Lehigh Valley
Foundations need sturdy soil to function properly, but Lehigh Valley's silty soils make this a challenge for your foundation. This is especially true during rain or snow, as the water causes many soil issues like erosion. Your foundation sinks into the ground as a result and leads to structural problems in your home like wall cracks or uneven floors. Baker's has solutions designed to stabilize your foundation such as pier systems, wall anchors, and carbon fiber wall repair. Your home will no longer get damaged by unstable soils!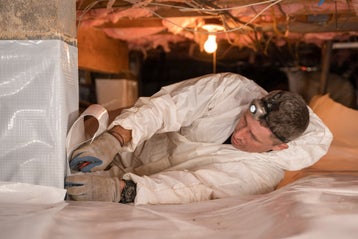 Crawl Space Encapsulation & Repair in Lehigh Valley
The Leigh Valley region's weather poses a serious threat to your crawl space. Approximately 47 inches of annual rain and snowy, cold winters create tons of moisture that seeps into your crawl space, especially through open crawl space vents and exposed dirt floors. Humid air and groundwater after rain or snow lead to rising humidity below your home. This leads to mold, wood rot, and sagging floors. Baker's Waterproofing protects your crawl space from all forms of moisture with vapor barriers, vent covers, and crawl space drains for a controlled environment below your home.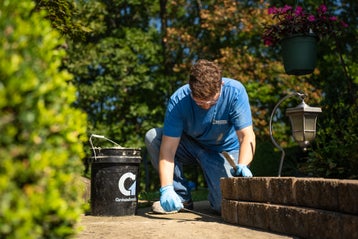 Concrete Lifting in Lehigh Valley
Concrete relies on stable soil to maintain its structure, but silty soils in Lehigh Valley cause trouble for concrete on your property. When it rains, the soil is washed away and weakened. This leads to sunken concrete with uneven and cracked sections. Baker's uses PolyRenewal™, a polyurethane injection system that is strong enough to hold the weight of your concrete just 15 minutes after installation. Moreover, polyurethane is waterproof, so once it has filled gaps below the concrete, rain will no longer soak into the soil or cause problems for concrete structures on your property like pool decks, driveways, or interior slabs. 
FAQs
There are many ways that moisture can enter your basement, including basement leaks from outside and broken plumbing. Ignoring leaks can cause flooding and allow for musty smells, mold, and pests. Even small cracks in your walls and floors can allow groundwater to flood your basement and lead to further issues.
Hydrostatic pressure can cause your basement walls to bend and crack as accumulated groundwater puts pressure on them. Cracks allow water to seep through the concrete and cause flooding, usually in the wall-floor joint. As basement walls are part of the foundation, their structural issues can affect the rest of the house, such as sinking floors and failing columns. This can leave walls above with issues like cracks, bending, and breaking.
The soil around your home is actually looser the closer it is to your foundation because it was backfilled after the foundation was built in a bowl-like hole. The porous backfill soil absorbs water, which is dangerous for the foundation and a persistent problem in areas where the soil is mainly clay and has a high expansion capacity. Rainwater and raised water tables exacerbate this problem.
Concrete cracks can pose tripping hazards and avenues for precipitation to put pressure on your foundation. Hairline cracks measuring less than 1/8 inch or those measuring up to 1/4 inch wide can wait, but any wider than this should be treated immediately to prevent further damage to the surrounding slabs and foundation. The SettleStop PolyRenewal™ injection foam repair solution is an eco-friendly and non-invasive solution that can stabilize supporting soil and concrete slabs and repair cracks and damage, curing in just a few minutes without disrupting your property.
It is easy for moisture to negatively impact your foundation because all the water from heavy rain and melted snow will absorb into the surrounding soil. However, the soil is only capable of holding so much water weight before it either washes away or grows extremely heavy. This creates an immense pressure against your foundation, causing it to shift away from this weight or even crack altogether. When winter comes and that trapped water freezes, the expanding ice then can lead to the foundation cracking apart from within. Water seeping into your foundation also causes mold growth and other unwanted conditions within the home.