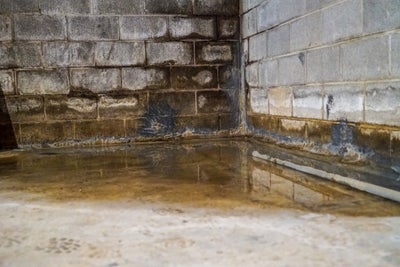 It's not uncommon for homeowners to notice unpleasant odors in their basements. While musty smells may seem insignificant, they often signal serious underlying issues that should be dealt with promptly.
BQ Basements & Concrete has the solutions to effectively address and manage basement moisture at its source.
We offer comprehensive basement waterproofing solutions to eliminate musty basement smells and address the root causes of moisture. Homeowners in Philadelphia, New Jersey, and Delaware have trusted us for over 20 years. We're committed to providing unparalleled customer care and reliable solutions.
Learn why your basement smells musty and how BQ Basements & Concrete can help fix the problem at its source. 
What Are Musty Basement Smells? 
The musty smells found in basements are often characterized as stale, damp, or musty smells originating from the lower part of your home. These odors aren't merely unpleasant; they serve as a red flag for underlying moisture damage and structural concerns.
Basement smells signal problems, such as:
Water in your basement
Elevated basement humidity
Mold growth
Rotting wood
Pest infestations
Wet and damaged belongings
Plumbing leaks or backups
Ignoring basement smells and other problems can lead to serious damage, so it's important to act quickly and contact basement waterproofing professionals like BQ Basements & Concrete.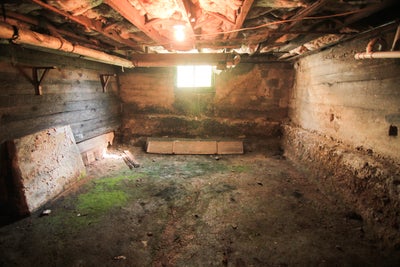 Why Your Home Has Musty Basement Smells 
There are several reasons behind musty basement smells, including:
Condensation: Basements often lack sufficient ventilation and are susceptible to the accumulation of moisture and condensation.
Damp Basement: A damp and leaky basement caused by faulty plumbing and external sources can lead to pooling, stagnant water.
Mold Growth: Moisture and poor ventilation together provide the ideal environment for basement mold growth.
Pest Infestations: Rodents and insects may introduce pollutants and generate waste.
Wet Belongings: Objects such as rugs, furniture, and boxes have the capacity to absorb moisture, which can contribute to the odor.
Damaged Insulation: Damp fiberglass insulation releases an unpleasant odor, and its soft, fluffy texture provides the ideal breeding ground for mold and pests.
Rot: Wooden beams and walls can deteriorate, releasing a musty smell.
Faulty Drainage: Blockages and poor drainage can lead to water backup and the resulting odors.
Damaged Sewage Main: Compromised sewage lines can emit unpleasant odors and pose a health risk.
Foundation Problems: Foundation cracks may permit moisture and soil gas intrusion.
Contact BQ Basements & Concrete for a free inspection. Our experts will pinpoint the issue and suggest specific repair solutions.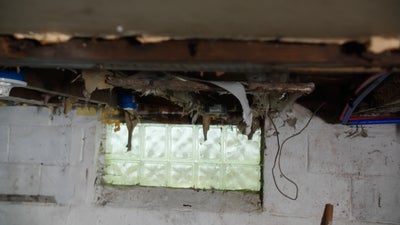 Can You Fix Musty Basement Smells? 
Yes, musty basement smells can be remedied. While using air fresheners or candles may provide a temporary solution, the underlying causes of the musty smell persist.
Eliminate musty basement smells for good with a solution that targets the core moisture issue. BQ Basements & Concrete offers a comprehensive waterproofing system that addresses the problem at its source.
How to Fix Musty Basement Smells: The BQ Basements & Concrete Approach 
We address basement odors and moisture with these steps:
Comprehensive Inspection: Our specialists conduct a free and thorough assessment of the interior and exterior of your home. They identify the issue's root cause and suggest tailored solutions.
Interior Drainage: Our specifically designed interior perimeter drainage system intercepts water seepage from your walls, floor, and cove joint, diverting it away from your basement.
Sump Pumps: A sump pump, positioned in the lowest part of the basement, gathers water from the interior drains and expels it out and away from your home.
Wall Vapor Barriers: Durable, waterproof, and mold-resistant wall vapor barriers shield your basement from external moisture and guide any seeping water towards the drainage system.
Dehumidifiers: Our robust yet energy-efficient basement dehumidifier enhances indoor air quality by regulating moisture and humidity levels, eliminating odors, and preventing mold growth.
Wall Repairs: Our wall reinforcement systems, such as wall anchors and carbon fiber straps, secure basement walls and halt any additional cracking or shifting, ultimately preventing moisture intrusion.
BQ Basements & Concrete offers custom solutions designed to address your needs more effectively than standard products. Our solutions are backed by transferable warranties and maintenance plans for added assurance.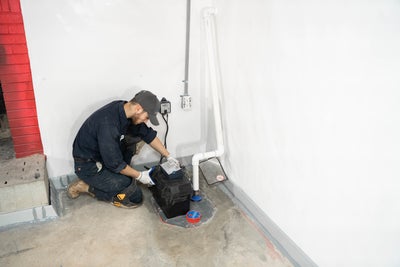 Why Address Musty Basement Smells 
It is important to address musty basement smells immediately because:
Health Risks: Exposure to mold can result in respiratory problems and other health risks. Additionally, damp spaces tend to attract pests, which can bring diseases, viruses, and parasites.
Structural Damage: Persistent moisture can gradually harm walls, floors, and the foundation. When moisture infiltrates wood, it leads to rot, decay, and compromised structural integrity.
Other Leaks and Damage: Excessive moisture corrodes pipes, wires, and appliances, leading to leaks or electrical shorts.
Property Value: Ongoing issues can have an impact on the value of your home.
Comfort: Removing odors improves the overall comfort of your living space.
BQ Basements & Concrete offers solutions designed to address your specific needs more effectively than generic products.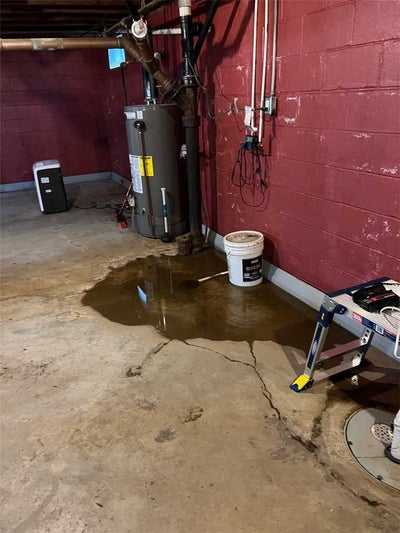 Contact BQ Basements & Concrete for Reliable Basement Waterproofing Solutions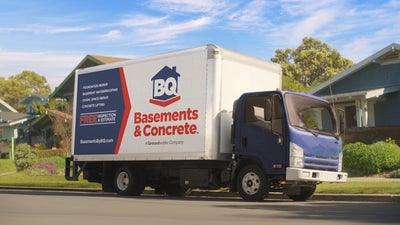 Don't tolerate musty basement smells. Contact BQ Basements & Concrete today for a free, no-obligation inspection to determine the best solution for your home.
We will inspect your basement and suggest tailored solutions to address the underlying causes of moisture. Our exclusive waterproofing products, relied upon by countless homeowners, surpass those found in stores. 
FAQs
Musty basement smells resulting from water intrusion are common but shouldn't be accepted as normal. This issue poses a hazard to both your family and your home's well-being. If you detect any odor in your basement, don't dismiss it or attempt to mask it with a spray. Contact BQ Basements & Concrete for a complimentary inspection to address the issue at its root.  
Though mold does have a recognizable scent, musty odors in your basement may not always indicate mold growth. Other potential sources include plumbing issues and damp or compromised materials like wood and cardboard.  
Yes, inhaling mold spores from a mold source can exacerbate allergic reactions or lead to illness. Don't overlook persistent musty odors. Contact BQ Basements & Concrete for a complimentary inspection and a basement waterproofing estimate.