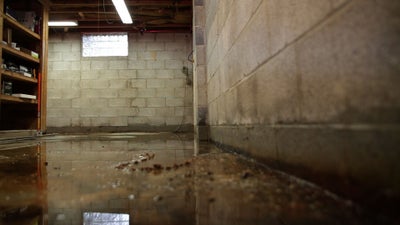 It's unsettling to see water pooling in your basement, especially when it's a space you often use.
Discovering water in your basement, whether it's just a few puddles or more extensive flooding, is more than a mere annoyance. It can hint at larger problems that might require expensive fixes.
At BQ Basements & Concrete, serving homeowners across Pennsylvania, New Jersey, and Delaware, we understand the headaches a wet basement can cause and are the leading experts when it comes to basement waterproofing. We're here to offer top-notch solutions to keep your basement dry and safe.
On this page, you'll learn why water might be entering your basement, why it's essential to address the issue promptly, and how BQ Basements & Concrete can assist.
What Is Water in Your Basement?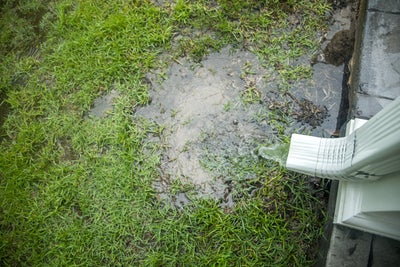 Water in a basement can show up in different ways – from little puddles to larger floods.
You might have water issues in your basement if you spot:
Signs of mold
White powdery residue (efflorescence)
Damp walls
Ruined items
But it's not just about the water you see. The effects can be more profound, impacting the very structure of your home, its resale value, and even your family's health.
What Causes Water in Your Basement? 
Several causes can lead to water pooling in basements:
Weather Conditions: Heavy rain or snowmelt can overload your drainage system. High groundwater table can also rise up to the basement level during wet seasons.
Drainage Issues: Faulty or inadequate drainage systems—including damaged gutters, downspouts, and footing drains—cannot properly divert water away from your home.
Sloping Issues: Similarly, improper negative landscape grading directs water toward your home's foundation instead of away from it.
Hydrostatic Pressure: When saturated, expansive clay-based soils exert hydrostatic pressure on the walls, leading to cracking, inward bowing, and leaks.
Wall Construction Issues: Porous concrete walls and floors can act like sponges, soaking up water and causing leaks. Problems during the concrete's construction also leave it vulnerable to water intrusion and damage.
Window Leaks: Old or damaged windows may leak, allowing water in.
Indoor Leaks: Things like broken pipes or a faulty sump pump can also be culprits.
Determining the root cause is essential — without this understanding, the issue might keep returning. That's where BQ Basements & Concrete steps in: our specialists thoroughly evaluate and tackle the core problems, providing lasting remedies instead of short-term patches.
Can You Fix Water in Your Basement? 
Absolutely! But it's not about quick fixes.
Using towels or sealants might seem to work temporarily, but they don't address the real issue. For a genuine solution, you need a thorough approach.
BQ Basements & Concrete considers all factors, offering solutions tailored to your home.
How to Fix Water in Your Basement 
Getting your basement truly waterproof involves a few steps:
Inspection 
During a free inspection, our certified field inspectors will pinpoint the problem, offering personalized solutions.
Interior Drainage 
A specially designed interior drainage system is placed throughout the perimeter and in your basement's sub-floor. This drain intercepts leaking water from the walls, floor, and cove joint. Water then drains into a sump pump system.
Sump Pumps 
A powerful sump pump system is placed in the lowest point of your basement. It collects water from your interior drainage system and actively pumps it up, out, and away from your basement.
Exterior Sump Pump Discharge Line Attachment 
Freezing discharge drainage lines are a concern in winter. Our specialized exterior sump pump discharge line attachment prevents freezing and allows water to drain as it should.
Dehumidifiers 
We use energy-efficient dehumidifiers to control humidity and reduce mold chances.
Wall Barriers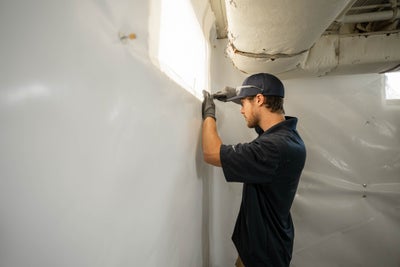 Thick and durable wall vapor barriers prevent vapor intrusion. If any water leaks through the basement walls, it runs behind the material and down to the perimeter drainage system.
Alongside this, we offer more tools to strengthen and protect your basement. With BQ Basements & Concrete, you get a solution that stands the test of time.
Why Address Water in Your Basement Now 
Addressing water issues quickly is essential for several reasons:
Health: Mold can affect air quality and health.
Safety: Water damage can weaken your home.
Property: Stored items can be ruined.
Value: Ongoing water issues can drop your home's worth.
Cost: Delay can lead to higher repair costs.
With BQ Basements & Concrete, you can handle the issue before it grows.
Choose BQ Basements & Concrete for Trusted Solutions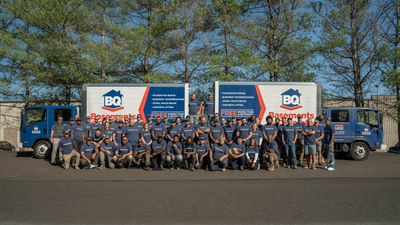 Water in your basement is not just an inconvenience but can escalate into a major issue. Don't compromise the safety of your home or the health of your family. Reach out to BQ Basements & Concrete for a complimentary, no-commitment inspection and restore your peace of mind.
As a respected basement waterproofing service in Pennsylvania, New Jersey, and Delaware, we take pride in our exceptional customer service and holistic solutions. Benefit from our expertise in ensuring a perpetually dry basement.