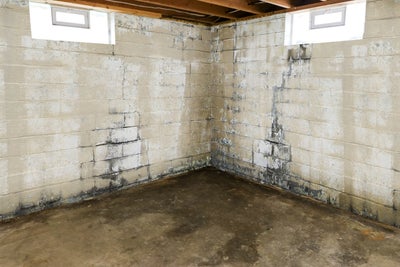 Wet basement walls are a common concern for homeowners in the Philadelphia, New Jersey, and Delaware regions.
However, wet basement walls are more than an inconvenience; they're a sign of underlying issues that may jeopardize your home's integrity and your family's health. Understanding the underlying causes and necessary steps for fixing them is crucial.
BQ Basements & Concrete boasts highly trained experts who tackle wet basement wall issues and associated damages. With over 30 years of experience and a reputation for delivering long-lasting, effective basement waterproofing solutions, we're here to help you transform your damp, problematic basement into a dry, healthy space.
Learn about wet basement wall repair and prevention as we examine the causes, signs, and effective remedies on this page.
What Are Wet Basement Walls? 
Damp basement walls arise from water seepage. Typically, this moisture is most evident in the middle and lower portions of the walls.
As time passes, these damp walls can lead to a range of issues, including:
Water in your basement
Basement humidity
Basement mold growth
Musty odors
Efflorescence
Rotting wood and supports
Pest infestations
Damaged textiles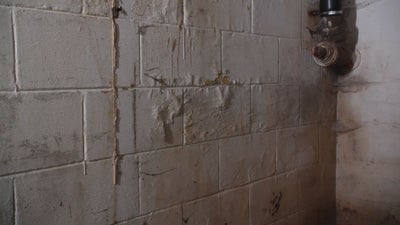 Ignoring wet basement walls is not a viable choice; it's essential for maintaining a healthy, secure, and valuable home environment.
What Causes Wet Basement Walls? 
There are several causes for wet basement walls, including:
Heavy Rain or Snowmelt
The Philadelphia, New Jersey, and Delaware regions are subject to diverse weather conditions, including stretches of intense precipitation. This substantial amount of water puts significant stress on the soil surrounding your home. Consequently, this excess water can seep through the walls. It is essential to protect your foundation from snow and rain.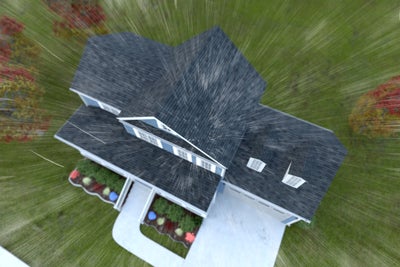 Faulty Drainage Systems  
It's crucial to assess the state of your home's gutters, downspouts, and drainage systems. These drainage systems serve as the primary barrier for redirecting excess water away from your home. If they're in disrepair, they may enable water accumulation near your home, saturating the soil and potentially causing leaks inside.
Damaged Footing Drains  
It's vital to take into account the footing drains that were originally installed around your basement's outer perimeter during construction. These drains can be prone to clogging from silt, sediment, and dirt, and they may also face challenges from the pressure of the surrounding soil. Additionally, the damp proofing applied to the exterior walls can degrade over time.
Hydrostatic Pressure and Wall Cracks  
Following heavy rain or snowmelt, the ground adjacent to your foundation walls becomes saturated with water. This leads to an increased force, referred to as hydrostatic pressure, exerted against the walls.
If the hydrostatic pressure becomes excessive, it can cause the walls to crack and bow inward. This affects the structural stability of your home and leads to water seepage through the cracks.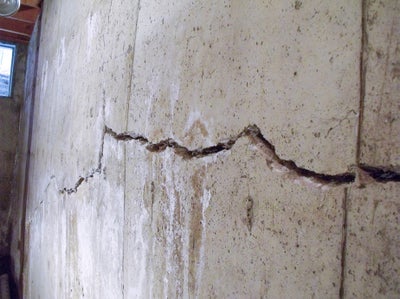 Porous Concrete Walls  
Concrete is widely recognized for its sturdy attributes, yet it remains permeable. This means that water can penetrate through tiny openings formed by the capillary holes or pores that emerge as cement solidifies.
As moisture interacts with the calcium within the porous concrete, these pathways widen, leading to further damage concealed behind walls and ultimately resulting in unwanted leaks.
Additionally, subpar construction techniques and aging materials can further compromise your basement walls' capacity to resist water intrusion. Understanding the root causes is crucial for implementing lasting, practical solutions.
Can You Fix Wet Basement Walls? 
Yes, wet basement walls can be fixed. Yet, identifying and fixing these problems can pose a challenge when tackled independently.
Many homeowners have attempted DIY repair methods like reapplying damp proofing, reinstalling footing drains, caulking, and using supposed waterproof paints and sealants. Unfortunately, these approaches often prove ineffective and may even exacerbate the issue.
The key lies in a comprehensive, whole-home solution for a permanent resolution. BQ Basements & Concrete provides customized basement waterproofing systems designed to meet your specific requirements.
How to Fix Wet Basement Walls 
BQ Basements & Concrete addresses wet basement wall repair in the following ways: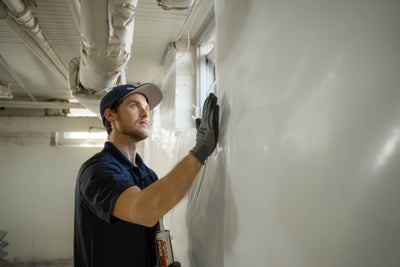 Sump Pump Integration: Positioned in the lowest section of the basement, the sump pump system gathers water from the interior drainage and actively expels it from the basement.
Wall Vapor Barrier Addition: A 12-mil thick, mold and water-resistant vapor barrier creates an impermeable seal, preventing unwanted vapors from permeating through basement walls. Any leaking water is channeled behind it and into the waterproofing system.
Basement Dehumidification: An energy-efficient dehumidifier ensures optimal humidity levels, enhanced air quality, and maintains a dry, healthy environment.
Basement Wall Reinforcement: Cracked or bowed basement walls are permanently reinforced using carbon fiber straps, steel I-beams, or wall anchors. These systems are compatible with our basement waterproofing solutions.
Our professional waterproofing goes beyond temporary solutions, addressing the underlying issues at hand. We offer exclusive products designed to rectify wall and basement water damage to prevent future leakage.
Why Address Wet Basement Walls Now 
Addressing wet basement walls at the earliest indication is pivotal for several reasons, including:
Enhance Structural Integrity: Halt moisture, preventing rot, decay, and weakened walls.
Avoid Costly Repairs: Timely action can prevent more extensive and expensive fixes down the line.
Mitigate Health Hazards: Mold and mildew pose potential health and safety risks.
Deter Pests: Prevent insect and pest infestations stemming from damp conditions.
Increase Property Value: If you're considering selling your home, a dry, stable basement significantly adds to its overall value.
For a complete solution to your wet basement problems, trust BQ Basements & Concrete. Our tailored waterproofing solutions are designed for reliability, setting us apart from big box stores.
Contact BQ Basements & Concrete for Reliable Basement Waterproofing Solutions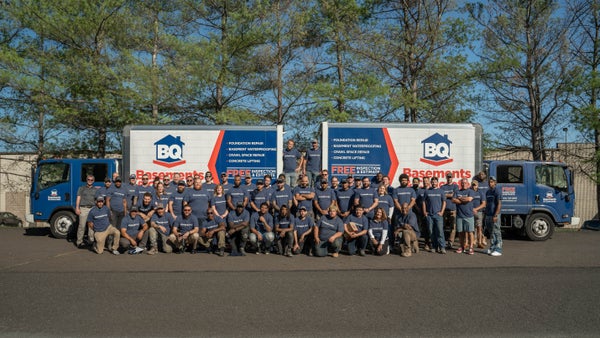 Don't let minor concerns escalate into major problems. Wet basement walls can rapidly lead to significant damage. Reach out to BQ Basements & Concrete today for a complimentary, no-obligation inspection.
As a prominent industry authority with over 30 years of experience, we offer proven solutions to accurately diagnose and permanently resolve wet basement walls. Homeowners in Philadelphia, New Jersey, and Delaware trust our comprehensive basement and foundation repair remedies for dependable, long-lasting relief from this issue.
FAQs
Attempting to address wet basement walls on your own is not advisable. While DIY solutions may provide temporary relief, they can't match the effectiveness of a professional, comprehensive approach. Contact BQ Basements & Concrete today to schedule a complimentary inspection and discover how our dependable, long-lasting waterproofing solutions can benefit your home. 
The time it takes to fix wet basement walls varies depending on the severity of the damage and the solutions needed. However, we are committed to providing quick, reliable, and high-quality waterproofing solutions. 
BQ Basements & Concrete will work with you to assess the damage and develop a customized waterproofing plan that meets your needs and budget. We will also provide you with an estimated timeline for the project.
The cost of repairs varies based on factors like the basement's size, the extent of leaks and existing damage, and the custom solutions required. At BQ Basements & Concrete, we offer complimentary inspections, along with no-obligation estimates. Our pricing is transparent, and we provide flexible financing options. Contact us today for further details.