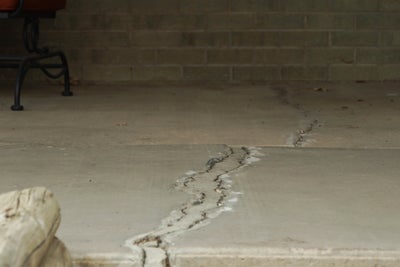 A patio can be a serene outdoor haven, but without proper care and protection, it can quickly become an unattractive hazard.
Cracked concrete patios are a safety hazard and may indicate other damage to your home.
BQ Basements & Concrete knows that concrete problems are a serious matter, so we offer specialized, practical solutions to fix them. Our SettleStop™ PolyRenewal™, an innovative concrete lifting solution will restore your patio's safety and beauty, making it a safe and enjoyable space for you and your family.
This page provides you with insights to cracked concrete patios, illustrating how expert repair solutions can rejuvenate your home and your sense of tranquility.
What Is a Cracked Concrete Patio? 
A weathered concrete patio, often situated in your backyard, exhibits signs of wear and tear through the emergence of fissures, lines, and fractures. These issues compromise the patio's visual appeal and weaken its structure.
These fractures vary in severity, spanning from superficial marks to deep, extensive damage, potentially posing a significant safety risk by creating tripping hazards. Furthermore, the irregular surface of cracked patios can act as entry points for pests, weeds, and debris accumulation, while also worsening the deterioration process through water retention.
In addition to a deteriorating patio, you may also observe similar concrete issues throughout your property, including:
Sinking concrete porch
Sinking concrete slabs
Sinking concrete steps
Cracked concrete
Cracked sidewalks
Cracked driveway
Cracked concrete pool deck
Concrete pitting, flaking, and staining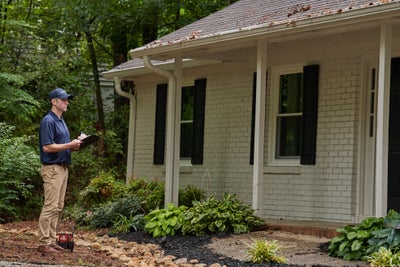 The extent of damage will only escalate with time if not addressed. As soon as you notice any of these issues, contact a professional for repair assistance. At BQ Basements & Concrete, we offer a thorough approach to assess the scope and underlying causes of the damage, guaranteeing an effective and long-lasting repair.
What Causes a Cracked Concrete Patio? 
Various factors that contribute to the formation of cracks in concrete patios, such as:
Shifting Soil and Erosion: When the soil beneath a concrete patio undergoes displacement or erosion, it leads to sinking and instability in the concrete above. This dynamic can result in uneven concrete settlement and the formation of cracks. Dry, compacted soil further exacerbates this issue, as it fails to provide adequate support for the concrete above.
Environmental Factors: Prolonged periods of heavy rainfall or flooding can intensify soil erosion, especially on properties with expansive clay-based soil. Additionally, the repeated freeze-thaw cycles characteristic of certain climates can cause the water within the concrete to expand, contributing to crack formation.
Root System Impact: As tree roots extend and grow beneath or adjacent to a patio, they exert pressure against the concrete, leading to cracks and upward displacement.
Construction and Installation Errors: Mistakes made during the concrete pouring process or complications arising during the curing phase can result in inherent weaknesses, instability, and eventual cracking. These issues are often tied to improper installation procedures.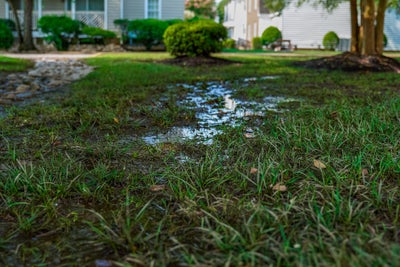 Soil movement issues can also have detrimental effects on a home's foundation. Identifying these problems is pivotal in devising an appropriate foundation repair strategy. Surface-level fixes are not enough. We must address the root cause to prevent future damage.
Can You Fix a Cracked Concrete Patio?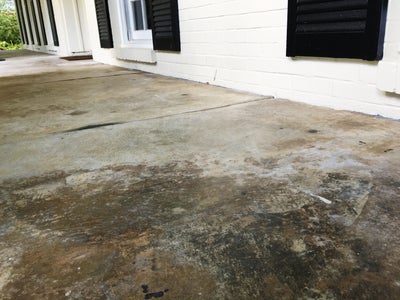 Yes, fixing a cracked concrete patio is possible. It's crucial to take action at the first sign of trouble, as substantial damage can limit potential repair options.
However, concrete filler, mudjacking, and other quick-fix solutions are not enough. These temporary repairs fail to address the underlying cause.
Reliable concrete repairs necessitate the use of professional-grade equipment and techniques. A comprehensive approach that tackles the underlying causes is imperative for achieving lasting results.
At BQ Basements & Concrete, we provide holistic solutions, including our cutting-edge SettleStop™ PolyRenewal™Injection concrete lifting system. This repair method addresses the visible damages and targets the contributing factors, preventing recurrence.
How to Fix a Cracked Concrete Patio 
BQ Basements & Concrete employs cutting-edge techniques to lift and stabilize cracked concrete patios. Our method includes the following steps:
We comprehensively assess the damage during a free inspection.
Precisely drill small holes into the affected sections of the patio.
Skillfully position injection ports into the prepared holes.
Mix a specialized two-part, closed-cell polyurethane foam.
Strategically inject the foam beneath the patio surface.
Observe the foam's expansion as it lifts the concrete.
Cure the foam for 15 minutes.
Fill and smooth the drilled holes.
Apply sealing techniques to prevent any future damage.
Routine maintenance provides ongoing protection for your concrete patio.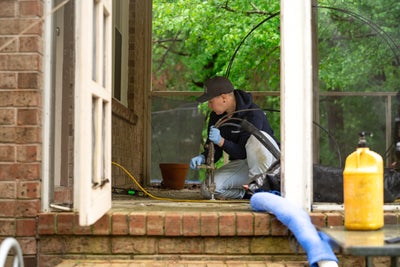 We understand every home is unique. Our proprietary solutions, including PolyRenewal™, are personalized to your property's specific issues, outperforming conventional methods.
Why Address a Cracked Concrete Patio Now 
Addressing a cracked and sunken concrete patio promptly is crucial for various reasons:
Escalating Safety Concerns: Uneven slabs and cracks pose significant tripping hazards. These risks heighten as the concrete patio continues to deteriorate and splinter.
Progressive Structural Deterioration: Failing to address the underlying soil issues allows ongoing erosion and ground shifts, leading to further fracturing and sinking of the patio over time.
Water-Related Threats: Cracks provide a pathway for water to seep beneath the patio, hastening erosion. This infiltration can also progress towards the foundation, exacerbating potential issues.
Unwanted Visitors: The presence of cracks invites insects and weeds to establish themselves beneath the concrete surface. In more severe cases, rodents may even exploit these openings to gain access to your home.
Aesthetic Decline: A deteriorating, uneven, and damaged patio significantly impacts the overall visual appeal of your property.
Reduced Property Value: The presence of damage and an unkempt appearance can lead to a decrease in your home's overall value and may discourage potential buyers.
When managing cracked concrete patio issues, trust BQ Basements & Concrete. Our proprietary solutions, developed with advanced technology, outshine generic products commonly found in big-box stores, providing you with optimal and unmatched results.
Contact BQ Basements & Concrete for Reliable Concrete Lifting Solutions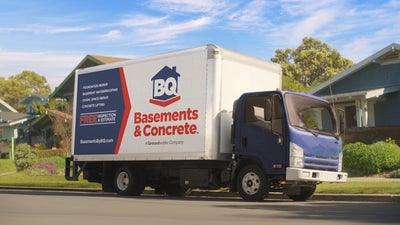 Your home is your sanctuary, and a secure, appealing patio is what you rightly deserve. Trust BQ Basements & Concrete to reinstate the integrity of your concrete patio. Our concrete lifting solutions are tailored to deliver steadfast and long-lasting outcomes.
For over 15 years, homeowners in Philadelphia, New Jersey, and Delaware have trusted us for our innovative repairs, attention to detail, and dedication to customer satisfaction. Contact us for an obligation-free inspection. Our experts will offer the precise solutions needed to reinstate your patio's functionality.
FAQs
Yes, small concrete patio cracks may appear harmless, but if left unattended, they can worsen, leading to significant structural issues. While concrete patio damage is not directly connected to foundation problems, it can signify foundation sinking or shifting. If you notice cracks in your concrete patio or elsewhere in your home, contact BQ for a free inspection. 
The polyurethane foam injection process is generally completed in a matter of hours. Once the foam is carefully injected beneath the concrete, it undergoes curing within a mere 15 minutes, enabling you to resume using your concrete on the very day of installation. Nevertheless, the overall project duration is contingent on factors like size and the level of concrete damage.  
Expert concrete restoration boasts an impressive lifespan, guaranteeing both resilience and steadfastness. BQ Basements & Concrete introduces SettleStop™ PolyRenewal™ polyurethane injections. This lightweight yet robust solution surpasses the those of mudjacking and full-scale replacement. Contact us to secure your free inspection and to learn more about annual maintenance plans and financing options.