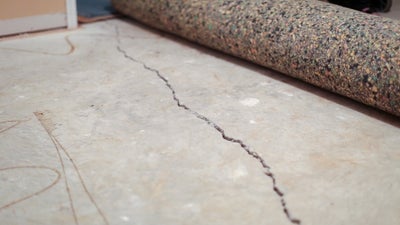 Concrete is known for its durability, but it is not without its vulnerabilities. Over time, concrete can develop cracks and suffer damage. Beyond affecting your home's curb appeal, cracked concrete presents significant risks, including safety hazards and structural concerns.
At BQ Basements & Concrete, we understand that cracked concrete can be hazardous and costly to repair. That's why we offer a variety of efficient and effective concrete lifting solutions tailored to meet your unique needs.
Our specialized services and proprietary products include our advanced SettleStop™ PolyRenewal™ polyurethane injections. This unique concrete lifting system is designed to provide lasting, professional resolutions to cracked concrete problems, ensuring safety and longevity.
Learn how to identify the signs and sources of cracked concrete, and the benefits of BQ Basements & Concrete's proprietary repairs for your home.
What Is Cracked Concrete?
Cracked concrete is a common problem that can occur on any concrete surface. These cracks can range from minor surface lines to significant fractures that penetrate deep into the concrete, potentially compromising structural integrity.
Concrete exhibits damage on various structures, including:
Cracked and sinking steps
Cracked and sinking patios
Cracked and sinking porches
Cracked sidewalks
Cracked driveways
Cracked pool decks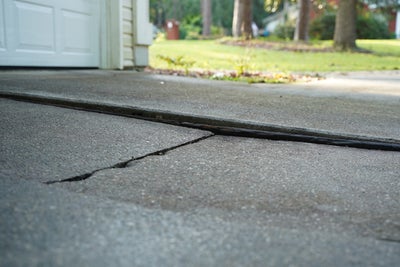 Cracks often accompany additional damage, including:
Sinking concrete slabs
Concrete flaking, pitting, and staining
Cracks and other concrete damage can diminish the visual appeal of your home and pose significant safety risks. Prompt attention and resolution are required. While postponing repairs may be tempting, taking action is vital to prevent further worsening of the existing damage.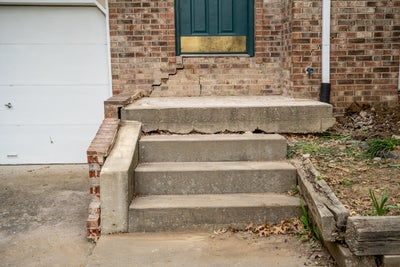 Why Your Home Has Cracked Concrete
There are several factors that can lead to cracked concrete, such as:
Excessive rain, flooding, or snowmelt
Freeze-thaw cycles
Incorrect concrete pouring
Issues with curing during installation
Settling and eroding soil
Invasive tree roots
Normal wear and tear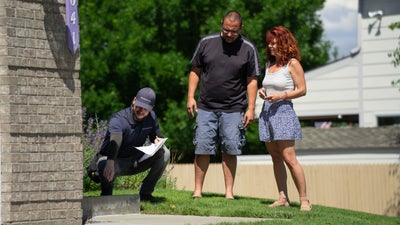 These factors can cause damage to concrete, and potentially severe consequences for the home's foundation. Settlement and shifts in the soil beneath the concrete slabs, compounded by external pressures and weather conditions, often lead to the formation of cracks. If left unaddressed, these can lead to long-term structural and safety issues.
Can You Fix Cracked Concrete?
Yes, cracked concrete can be repaired. It is crucial to address the issue promptly since extensive damage may limit available repair options.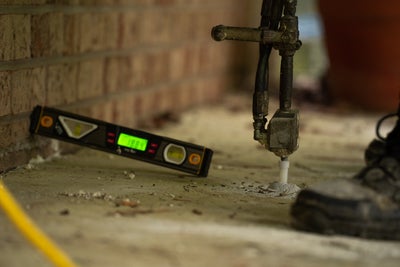 While it may be tempting to opt for quick fixes like sealing the cracks or traditional methods like mudjacking, these approaches fail to tackle the underlying causes. This approach can exacerbate deterioration and escalate the cost of repairs.
Adopting a holistic approach that addresses the root issues is crucial. At BQ Basements & Concrete, we offer comprehensive services beyond surface-level repairs, ensuring lasting results. We employ polyurethane injection technology known as PolyRenewal™ to lift sinking and cracking exterior concrete surfaces.
For homes experiencing foundation issues, our experts may recommend specialized solutions such as foundation piers or slab piers designed to stabilize and potentially raise sinking slab foundations.
Recognizing that every home is unique, we provide customized repairs to meet your home's needs. Our team will assess your property and determine the optimal long-term solutions to resolve your home's concrete and foundation concerns permanently.
How to Fix Cracked Concrete
BQ Basements & Concrete's approach to fixing cracked concrete involves:
Perform a thorough inspection to identify underlying causes and determine necessary repairs.
Drill small, penny-sized holes into the affected concrete areas.
Place injection ports into the holes.
Blend the two-part polyurethane foam.
Inject the foam underneath the concrete.
Monitor the foam's expansion and the concrete's elevation.
Allow the foam to cure for 15 minutes.
Remove all injection ports.
Fill the drilled holes and ensure a smooth, seamless finish.
Seal the cracks and joints for safety.
Perform routine assessments and maintenance to ensure long-lasting results.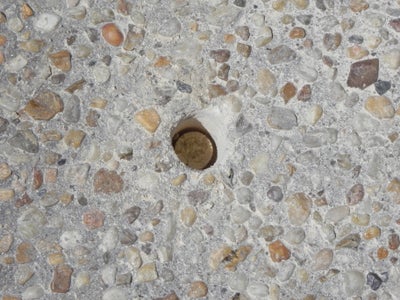 Our innovative products are tailored to address your home's concerns with greater effectiveness compared to alternative solutions. Among our proprietary offerings, PolyRenewal™ distinguishes itself by providing precise and rapid concrete lifting, restoring stability and safety.
Why Address Cracked Concrete Now
Repairing cracked concrete promptly is crucial for several reasons:
Prevent Escalation of Damage: Acting early stops concrete deterioration, preserving your home's structural integrity.
Promote Safety: Timely repairs reduce safety risks, creating a secure environment for your family.
Safeguard Property Value: Maintaining concrete structures sustains and potentially increases your property's overall value.
Cracked concrete is a serious problem that can lead to further damage if not repaired promptly. To fully resolve cracked concrete issues, rely on BQ Basements & Concrete and our advanced, proprietary solutions developed to deliver optimal, lasting results.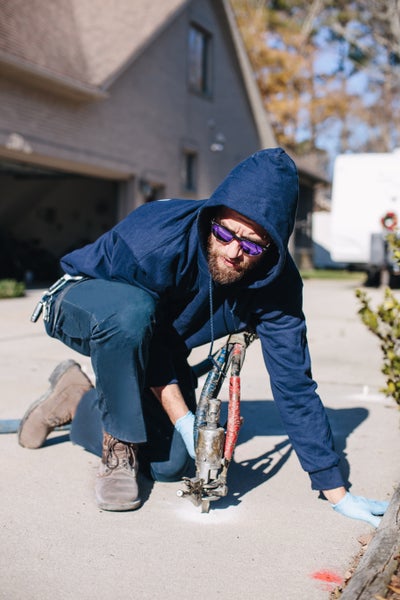 Contact BQ Basements & Concrete for Reliable Concrete Lifting Solutions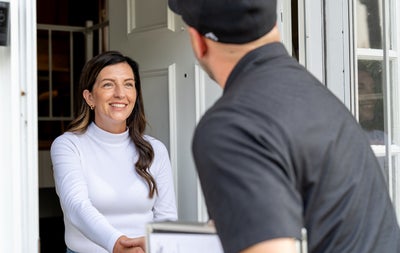 Cracked concrete is a safety hazard and can detract from curb appeal and property value. BQ Basements & Concrete offers expert concrete lifting solutions to restore your concrete to its original condition, preventing further damage and enhancing your home's value.
BQ specialists conduct a free initial inspection of your cracked concrete to identify the root cause and develop a customized solution. Our durable, warrantied concrete repairs eliminate tripping hazards, halt further cracking, and rejuvenate the appearance of your concrete.
Contact us today to schedule a free inspection and to learn more about our flexible financing options and maintenance plans.
FAQs
Cracked concrete could signal potential foundation issues, warranting professional assessment and repair. BQ Basements & Concrete offers complimentary home inspections, extensive repair solutions, transparent estimates, financing options, and extensive warranties for peace of mind. 
We discourage DIY approaches such as patching or filling cracked concrete, repouring, or mudjacking the slabs. These quick fixes are time-consuming and costly, and do not resolve the underlying issue. Instead, consider professional concrete lifting services, such as those offered by BQ Basements & Concrete. Contact us for further information and to schedule a free inspection and repair estimate. 
Our advanced PolyRenewal™ concrete lifting system is adaptable and suitable for many concrete surfaces, including outdoor patios, driveways, garage floors, and interior slab floors. Additionally, our foundation repairs are customized to suit your foundation type, whether it's a basement, crawl space, or slab. Contact BQ Basements & Concrete to schedule a free inspection, so we can determine the best repairs for your home.