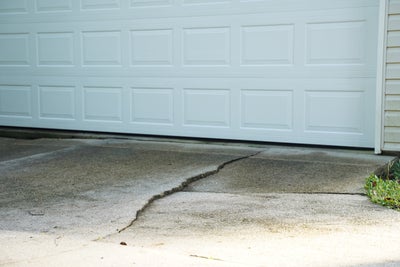 Cracked driveways are an issue that homeowners should address promptly. Beyond its negative impact on your home's visual charm, it poses a significant hazard to your property and family's safety.
Cracks and uneven concrete slabs are a tripping hazard, especially for those with mobility challenges. Additionally, these fissures have the potential to damage your vehicle and compromise your home's foundation. It's vital not to underestimate the importance of addressing this issue.
Count on BQ Basements & Concrete as your reliable ally in tackling this common concern. We offer cutting-edge, dependable concrete lifting solutions that are effective and built to endure. Our dedication to delivering top-notch results assures homeowners that we'll restore safety and enhance the beauty of their properties.
Learn more about the causes of cracked driveways and how our concrete lifting solutions excel in repairing them.
What Is a Cracked Driveway? 
A cracked driveway exhibits various forms of damage, from small, nearly invisible hairline fractures to substantial, noticeable splits that slowly develop. These imperfections can appear as single cracks or as multiple fractures distributed across the concrete surface. In addition to being unsightly, cracked driveways pose significant safety hazards, potentially resulting in trips, falls, and injuries.
The presence of cracks in your driveway may indicate other forms of damage on your property, including:
Sinking porches
Sinking concrete steps
Sinking concrete slabs
Cracked sidewalks
Cracked pool decks
Cracked concrete patios
Concrete pitting, flaking, and staining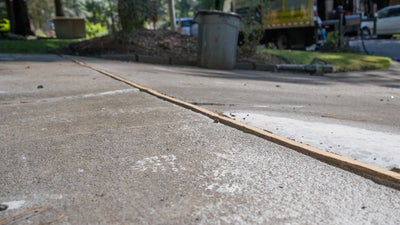 Concrete driveways are prone to developing cracks, often due to a variety of factors. It's crucial to seek professional inspection and repair services, such as those offered by BQ Basements & Concrete, to address any safety hazards and prevent further deterioration. Contact us immediately upon observing any of these issues.
What Causes Driveway Cracks? 
Cracked concrete driveways occur for various reasons, including:
Soil Challenges: Uneven settling or erosion of soil beneath the driveway leads to uneven stress and eventual cracking.
Tree Influence: Tree roots beneath or near the driveway exert upward pressure, resulting in the formation of cracks.
Precipitation Impact: Excessive rain or flooding can erode and undermine the underlying soil.
Weather Extremes: Freeze-thaw cycles allow water to infiltrate cracks and expand upon freezing. Additionally, concrete naturally expands and contracts with temperature fluctuations over time.
Construction Flaws: Inadequate concrete pouring or curing during initial construction can render driveways vulnerable to damage.
Vehicle Load: Compact cars and full-size pickup trucks exert significant weight, straining the concrete driveway and the underlying soil. This reoccurring stress leads to the development of cracks and sunken slabs.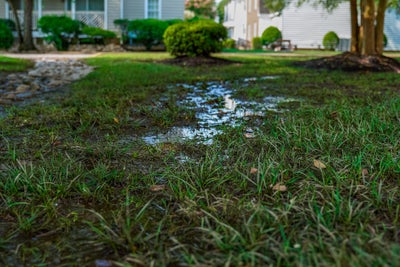 Concrete driveways and home foundations are affected by the same factors. Therefore, it is crucial to promptly address any issues with a specialist like BQ Basements & Concrete, who can offer the best solutions.
Can You Fix a Cracked Driveway? 
Yes, restoring cracked concrete driveways to their original condition is possible, but time is of the essence. As cracks progress and widen, it can limit the available repair options, potentially making a permanent fix more challenging.
Effective cracked concrete repair goes beyond sealing with caulk or concrete filler or resorting to traditional mudjacking methods. These are temporary solutions that do not last. The underlying issue, such as unstable soil, must be addressed to truly fix cracks and uneven areas.
The optimal solution is concrete lifting, elevating sunken sections, and stabilizing the driveway. BQ Basements & Concrete specializes in this technique, providing concrete lifting solutions that yield long-lasting results and ensuring every repair is conducted precisely.
How to Fix a Cracked Driveway 
The certified concrete driveway repair process at BQ Basements & Concrete encompasses several essential steps:
Inspect the driveway to determine the cause of the cracks and select the appropriate repair solution.
Drill small holes into the affected areas.
Install injection ports into the holes.
Combine a two-part, closed-cell polymer foam.
Inject the foam beneath the driveway slabs.
The foam expands, lifting the slabs and stabilizing the soil.
The slab lifts, and the soil is stabilized.
Remove the injection ports and fill and smooth the holes.
Seal cracks and joints to prevent further damage.
Routine maintenance checks for lasting stability and safety.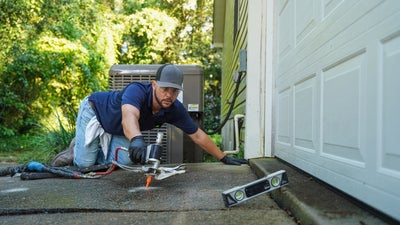 BQ Basements & Concrete uses a line of advanced products, including PolyRenewal™ Injection, to provide personalized and effective solutions for concrete lifting. PolyRenewal™ is a proprietary polyurethane foam solution that quickly and precisely lifts concrete. PolyRenewal™ repairs last longer than mudjacking and cause less disruption than slab replacement.
Why Address Driveway Cracks Now 
There are several reasons why it is important to repair cracked concrete driveways promptly:
Prevent further damage: Cracks can expand and worsen over time, leading to more serious structural problems.
Improve safety: Cracks can pose a safety hazard, especially larger cracks that can cause people to trip and fall or damage vehicles.
Maintain property value: A cracked driveway can detract from the curb appeal and value of your home.
Save money: The sooner you repair cracks, the less expensive the repairs will be.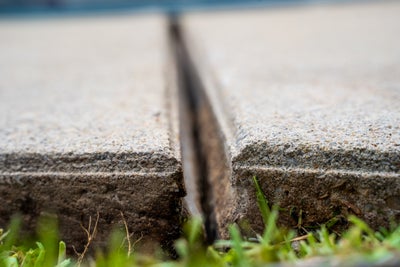 If your driveway is cracked or uneven, don't wait for it to get worse. Our PolyRenewal™ system can restore your driveway to like-new condition, permanently stabilizing it, relieving your worries about cracks and unevenness. Contact BQ Basements & Concrete today to schedule a free inspection and learn how we can help you fix your driveway for good.
Contact BQ Basements & Concrete for Reliable Concrete Lifting Solutions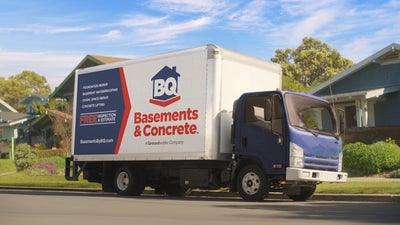 Cracked, sunken, or uneven concrete driveways can jeopardize the safety and curb appeal of your home. Contact BQ Basements & Concrete today for a free inspection and estimate.
Our team of experienced concrete specialists can quickly and precisely lift and stabilize sunken concrete slabs using our state-of-the-art PolyRenewal™ technology. With PolyRenewal™, we can restore your driveway to like-new condition and ensure a long-lasting, safe solution to cracked concrete.
FAQs
Yes, existing concrete driveways can be resurfaced or refinished to improve their appearance. While resurfacing may temporarily mask cracks and unevenness in concrete, it does not address the underlying problems, which will worsen over time. Any cracking or sinking requires professional inspection and repair for a lasting solution.  
BQ Basements & Concrete offers durable polyurethane injections to lift and stabilize concrete slabs. Contact us today for a free, expert inspection.
Concrete driveways can last 20 years or longer with proper installation and care, but minor cracks and flaws are common over time. BQ Basements & Concrete specializes in repairing damaged concrete driveways and restoring their longevity with our comprehensive repairs and proprietary SettleStop™ PolyRenewal™ process. Contact us today to learn more and schedule a free inspection. 
Our PolyRenewal™ system can typically lift sunken concrete sections in as little as 15 minutes, and the entire repair process is usually completed in less than one day. At BQ Basements & Concrete, we tailor our concrete lifting solutions to meet your specific needs. The extent of damage, type of repair, and amount of product used will affect the installation process. Contact BQ Basements & Concrete for answers to concrete lifting questions and for an accurate project timeline.