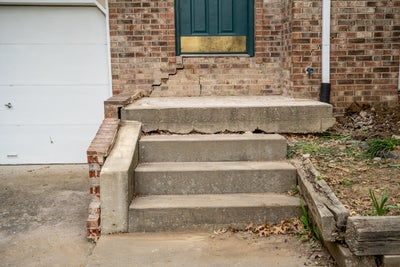 A durable stairway serves as a crucial gateway to your residence, ensuring stability and safeguarding against potential hazards.
Sunken concrete steps impair your home's curb appeal and pose safety risks, such as trip hazards. These unfortunate occurrences are common and can be caused by a variety of factors.
BQ Basements & Concrete resolves these issues, offering exceptional, specialized remedies to enhance your home's safety and visual appeal. Our specialized and durable concrete lifting techniques promise to restore your home's initial charm.
This page explains the causes of sinking concrete steps and how BQ Basements & Concrete utilizes proprietary solutions to restore stability and peace of mind.
What Are Sinking Concrete Steps?
Sunken concrete steps refer to stairs that have shifted or settled below their original position, leading to uneven surfaces and compromised structural integrity.
Not only do uneven steps detract from your home's curb appeal, but they also present safety risks. These issues indicate underlying concerns like soil erosion or structural instability, underscoring the need for immediate attention to prevent further deterioration or potential accidents.
Other concrete structures on your property may also exhibit wear and tear. These include:
Cracked pool decks
Cracked driveways
Cracked sidewalks
Cracked concrete patios
Concrete pitting, flaking, and staining
Sinking porches
Sunken concrete stairs diminish your home's visual appeal and present a significant tripping hazard. If not addressed promptly, they may fail, requiring expert intervention from reputable companies like BQ Basements & Concrete.
What Causes Sinking Concrete Steps?
Sinking concrete steps are caused by many factors, including:
Settling Soil: The compaction, shifting, or sinking of the soil beneath your stairs can lead to settling and cracking of the concrete above. This is particularly common with expansive soils high in clay content.
Eroding Soil: The flow of water under or against the stairs can erode and wash away the supporting soil, undermining the integrity of the concrete.
Tree Roots: Growing tree roots have the potential to shift the underlying soil, exerting upward pressure that can lift and crack the concrete from below.
Excessive Rain and Flooding: Prolonged exposure to moisture, whether from heavy rain, flooding, or snowmelt, softens the soil and triggers erosion beneath the stairs.
Freeze-Thaw Cycles: Water infiltration from seasonal freeze and thaw cycles progressively expands cracks.
Substandard Concrete Work: Concrete improperly prepared or cured is more likely to crack and sink over time.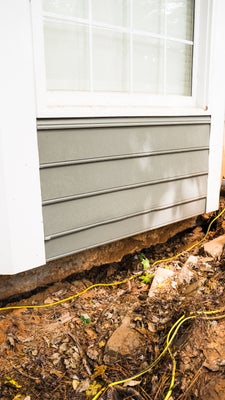 The factors affecting sinking steps also pose a threat to your home's foundation, underscoring the importance of whole-home solutions provided by experts like BQ Basements & Concrete.
Can You Fix Sinking Concrete Steps?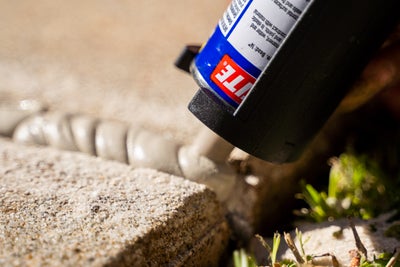 Yes, sinking concrete steps can be permanently repaired. However, quick fixes and traditional methods like mudjacking are temporary and ineffective. Instead, choose concrete lifting, a durable solution that uses specialized equipment to inject high-density polyurethane foam beneath the stairs, gently lifting and stabilizing them. The foam expands and cures within 15 minutes, providing a fast and durable solution.
Addressing the visible damage and underlying issues that compromise your home's structural integrity requires a holistic approach. BQ Basements & Concrete provides comprehensive solutions that address every aspect of the problem, offering lasting relief from recurring damages.
For more severe cases, specialized foundation repair, such as foundation piers, may be used to provide additional support and prevent further sinking.
How to Fix Sinking Concrete Steps
BQ Basements & Concrete employs an innovative concrete lifting method known as SettleStop™ PolyRenewal™ to securely rejuvenate sunken concrete steps. Our process includes the following:
Evaluation: Our team conducts a free inspection to determine the extent of damage, its underlying causes, and to formulate a tailored repair plan.
Drill Holes: We drill small holes in the affected concrete areas.
Install Ports: We position injection ports into these holes in preparation for the process.
Blend Foam: We carefully combine the specialized two-part polyurethane foam mixture.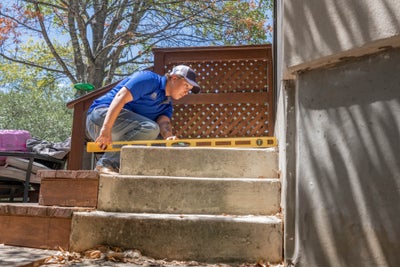 Administer Foam: This mixed foam is injected beneath the affected concrete, ensuring thorough coverage.
Elevate Steps: The high-density foam fills gaps between the concrete steps and the underlying soil. As it solidifies, it gently raises the sunken sections.
Seal Holes: Once stability is restored, we seal the drilled holes, providing a seamless finish.
Address Cracks: We also address and repair existing cracks, which prevents future damage.
Prioritize Safety: Our maintenance program guarantees ongoing concrete stability and durability.
Our proprietary concrete lifting foam, a custom-engineered solution tailored to your home's unique needs, provides lasting relief from sunken concrete stairs. In contrast to DIY approaches, PolyRenewal™ ensures a secure lift and stabilization, reinstating your peace of mind.
Why Should You Address Sinking Concrete Steps Now?
Addressing sinking concrete steps promptly is essential for many reasons:
Prevent Further Deterioration: Neglecting the repair of sinking steps leads to an accelerated degradation process, as water infiltrates and widens existing cracks.
Safeguard Your Foundation: Soil settlement beneath the steps may signal underlying foundation instability, demanding prompt attention. Addressing this early protects your foundation's integrity.
Enhance Safety: Uneven, sinking steps pose a significant tripping hazard and increase the risk of falls and injuries. Concrete lifting eliminates tripping hazards and reinforces structural stability, creating a safer environment.
Increase Property Value: Sunken, cracked concrete stairs detract from your home's visual charm and overall curb appeal. Reliable repairs restore curb appeal and bolster the structural integrity and value of your property.
Long-lasting Results: Our concrete lifting solutions include comprehensive warranties, providing you with the assurance of a lasting fix. Address sinking concrete steps promptly to avoid expensive repairs and further deterioration in the future.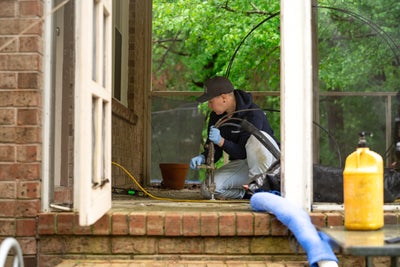 Entrust BQ Basements & Concrete with the inspection and restoration of your home's sinking concrete steps. Our PolyRenewal™ service offers a secure, reliable, and lasting fix.
Contact BQ Basements & Concrete for Reliable Concrete Lifting Solutions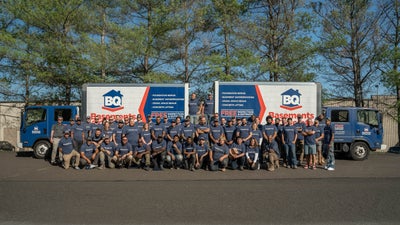 For more than twenty years, we have developed our expertise in revitalizing concrete structures, addressing issues like sinking steps, in Philadelphia, New Jersey, and Delaware. Our commitment to tailored customer service, attention to detail, and dependable repair remedies is well-known among homeowners.
Enhance the look and safety of your home with BQ Basements & Concrete's cutting-edge concrete lifting techniques. Contact us today for a complimentary inspection and say goodbye to sunken concrete steps.
FAQs
PolyRenewal™ concrete lifting process typically takes just one day to complete, with the expanding foam setting in about 15 minutes. However, the project duration may vary depending on the extent of the damage and any additional repairs needed.  
The high-density polyurethane foam sets in just 15 minutes after injection, allowing us to restore the functionality of your stairs on the same day. This process is notably more efficient and effective compared to methods like mudjacking or replacement, which demand days for curing. Contact BQ Basements & Concrete for more details about our affordable financing options. 
BQ Basements & Concrete's PolyRenewal™ foam offers a durable solution, guaranteeing longevity and resilience against environmental elements. This high-density polyurethane foam won't erode or negatively impact the soil or landscaping. Contact us for more information and to schedule a free inspection.