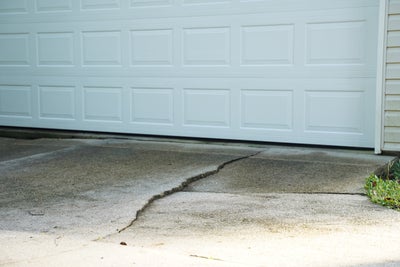 Cracked concrete is a prevalent issue, yet it poses a potential hazard. Beyond affecting your property's curb appeal, it may also signal underlying foundation problems, leading to additional damage.
Addressing the problem of cracked concrete is a source of concern for many homeowners. At BQ Basements & Concrete, we provide an efficient concrete lifting solution that directly tackles these issues. Our exclusive SettleStop™ PolyRenewal™ polyurethane injection system elevates sunken concrete slabs and assists in sealing cracks.
For over two decades, homeowners in Philadelphia, New Jersey, and Delaware have trusted our innovative concrete repair process. We're thrilled for you to experience this level of quality firsthand as well. 
What is Concrete Crack Repair?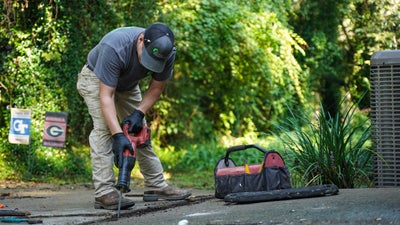 Concrete crack repair involves a tailored process to rectify surface damage resulting from unstable soil and excessive saturation.
Filling concrete cracks with caulk or similar materials is inadequate and only masks deeper underlying problems. At BQ Basements & Concrete, our repair methods extend beyond typical DIY repairs. We utilize PolyRenewal™, a concrete lifting technique that elevates settled and uneven areas.
This exclusive concrete lifting system is an integral component of our comprehensive home solutions, safeguarding visual appeal and structural integrity. PolyRenewal™ prioritizes concrete stabilization, often resulting in the reduction and sealing of visible cracks after the slab solidified. 
Signs Your Home Needs Concrete Crack Repair 
Cracks develop on various concrete surfaces, such as: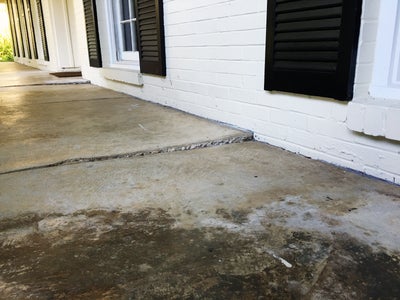 If you notice signs of concrete deterioration at your home, consider repair. Here are the clear indicators of concrete distress:
Uneven walking surfaces.
Crumbling concrete edges.
Cracks wider than ¼".
Uneven or sinking concrete slabs.
Concrete settling away from the house.
Water collecting on the concrete surface after rainfall.
Pitting, flaking, and staining on the concrete.
Weed growth between concrete sections.
Visible and expanding cracks on concrete surfaces.
Wall cracks or siding damage above settled concrete.
Detecting concrete cracks and other damage early allows for less invasive repairs, protecting your investment and preventing further costly damage. 
Is Concrete Crack Repair Necessary?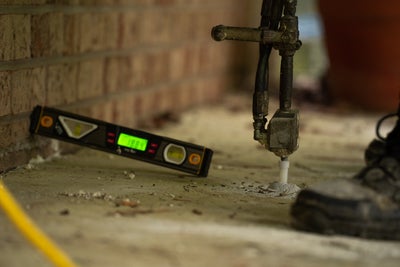 Concrete crack repair is vital.
Be cautious of repairs marketed as "quick fixes," as they fail to address the underlying issue. Methods like mudjacking or repouring may not effectively address cracking, sinking, and other concrete damage, potentially leading to more significant problems.
Attending to concrete damage in its early stages halts further deterioration, securing the longevity of your slabs and leading to long-term cost savings. As cracks continue to worsen, viable repair options may become limited. The sooner you address concrete damage, the less invasive and costly the repair.
Taking early action also enhances the effectiveness of solutions like PolyRenewal™, making it a crucial aspect of our comprehensive home solution. 
What Are the Benefits of Concrete Crack Repair 
Concrete crack repair offers many advantages, including:
Improved Safety 
Lifting uneven and sunken concrete removes trip hazards, and sealing cracks prevents additional safety risks to loved ones and vehicles. Together, these concrete repairs improve overall property safety.
Damage Prevention 
We stabilize the ground beneath by injecting expanding foam beneath compromised concrete slabs to prevent further sinking and settlement. This safeguards your concrete investment and stops issues from worsening.
Enhanced Property Value and Curb Appeal 
Uneven, cracked concrete detracts from your property's aesthetic appeal and reduces its value. Our concrete solutions are designed to restore these surfaces, making them look as good as new. With our specialized products and skilled team, we can restore your concrete to its original, seamless appearance.
Prolonged Concrete Life 
Our products fortify concrete surfaces, prolonging their lifespan. If left unattended, minor cracks can escalate into significant repair projects. Concrete lifting and stabilization procedures safeguard the slab's integrity, negating the necessity for full-scale replacement.
For optimal results, we recommend homeowners opt for our exclusive PolyRenewal™ system. Engineered with expertise, our proprietary products outshine generic alternatives, offering superior performance and durability.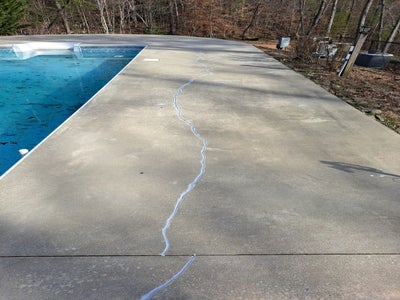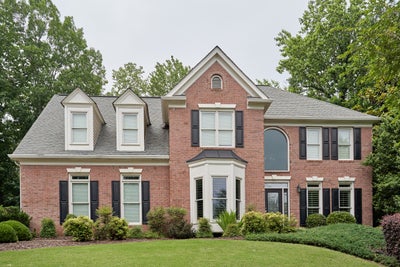 How Our Concrete Crack Repairs Work 
BQ Basements & Concrete follows these essential steps when installing PolyRenewal™, ensuring a complete repair of concrete cracks:
Drill small holes into the concrete.
Insert injection ports into each hole.
Prepare the two-part, closed-cell polyurethane foam.
Inject the foam into the ports, under the concrete slabs.
The expanding foam fills the voids under the concrete and gently lifts the slab.
The foam solidifies (approximately 15 minutes).
Remove the injection ports, fill, and smooth over the drilled holes.
Seal the cracks and joints to prevent future damage.
Schedule regular maintenance for the concrete slabs.
Equipped with the appropriate tools, training, and products, BQ Basements & Concrete's concrete repair process is efficient and minimally invasive, yielding lasting outcomes.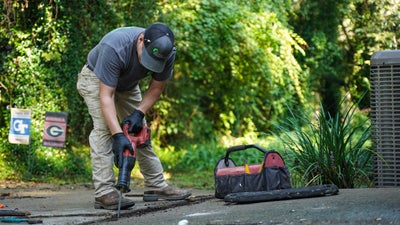 Why Our Concrete Crack Repair is the Best Choice  
The PolyRenewal™ concrete lifting technology from BQ Basements & Concrete is the top choice for concrete lift and crack repair, offering numerous advantages. Here are several of the primary benefits:
Precision: Our PolyRenewal™ injection technique exhibits precision in lifting settled concrete slabs.
Lightweight: Small access points render bulky equipment and excavation unnecessary.
Featherweight: Closed-cell foam bolsters strength without imposing excessive strain on existing foundations.
Rapid Solidification: Foam achieves full stability within 15 minutes, ensuring quick results and minimal downtime.
Lasting Durability: Our solution is designed to withstand various environmental elements, ensuring long-lasting repairs for concrete slabs.
Versatile Application: Effective of various concrete surfaces.
Sustainable Solutions: Non-toxic, sustainable materials engineered for lasting impact.
Subtle Integration: Effortless integration with landscaping, ensuring repairs that are nearly invisible.
Quality: Our emphasis on high-quality performance is reaffirmed by our comprehensive annual maintenance plans.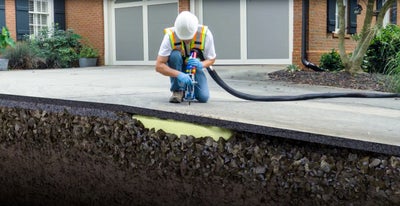 Contact BQ Basements & Concrete Today for Effective Cracked Concrete Repair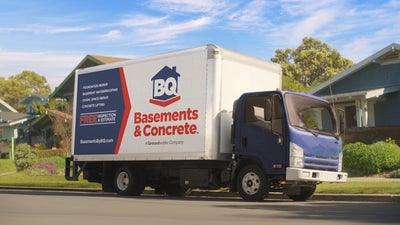 Have you noticed concrete settlement, cracks, or uneven sections on your property? It's crucial to act promptly. Postponing repairs may result in more significant deterioration. Trust in the expertise of BQ Basements & Concrete to protect and enhance your home's value.
BQ Basements & Concrete is the region's authority in foundation repair, providing unmatched quality to homeowners in Philadelphia, New Jersey, and Delaware. Contact us to schedule a complimentary inspection and to learn more about our concrete repair solutions. 
FAQs
Hairline cracks are usually harmless, but those wider than ¼" can potentially damage your concrete. Promptly addressing such cracks is crucial. Instead of attempting DIY repairs, trust in the expertise of BQ Basements & Concrete. Our PolyRenewal™ system effectively lifts and stabilizes concrete, facilitating crack closure.
Our concrete repair method doesn't rely on standard fillers. Instead, we inject high-density polyurethane foam under the concrete to lift and stabilize it. Although we don't technically "repair" concrete cracks, we can often close them after stabilization. To do this, we apply a silicone-based sealant to the cracks and joints. Contact us for more details and to schedule a free inspection and estimate. 
Usually, the concrete lifting process requires one day for completion. This timeline is contingent on the extent of the damage and the scale of the project. PolyRenewal™ foam solidifies in 15 minutes, allowing you to use the surface on the same day. Contact us to learn more about our concrete lifting services.