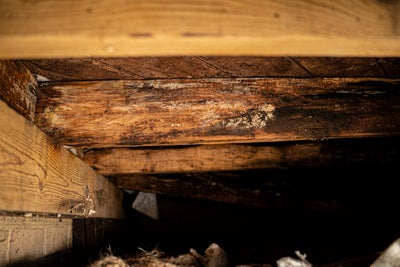 Jumping on a trampoline is a fun activity, but you shouldn't feel like you're bouncing around like that inside your house. If you experience that sensation when walking across the floor, you could have a serious problem on your hands.
Don't disregard that springy sensation underfoot – it could indicate a significant structural and safety hazard in your home. As soon as you notice an issue like bouncy floors, it's important to reach out to repair professionals for assistance.
At BQ Basements & Concrete, we are the local authority in foundation repair, crawl space repair and encapsulation, basement waterproofing, and concrete lifting services. We are devoted to assisting homeowners throughout Greater Philadelphia, New Jersey, and Delaware, offering dependable and permanent solutions for crawl space issues such as bouncy floors.
Let's explore this common problem and how we can help restore your home's safety and stability.
The Issue with Bouncy Floors
While bouncy floors may seem like a minor annoyance, they can often indicate serious structural issues within your home, such as deteriorated joists or weakened support beams.
Bouncy floors pose a safety hazard in your home as well. The instability of the flooring could cause tripping and subsequent injuries.
Ignoring these issues could result in significant damage and costly repair expenses. If you've noticed an unusual softness or unevenness while walking around your house, it's time to address the problem.
Reasons for Bouncy Floors in Your Home
Several factors could lead to bouncy floors, including: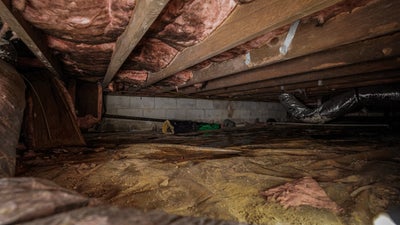 Excessive Moisture: If your crawl space has open vents, outside air and water find their way inside and create the perfect conditions for mold and wood rot to develop and thrive. Over time, damp supports in a humid crawl space may start to bend and fail to adequately support the floor above.
Pest Infestations: Pests like insects and rodents can also access your crawl space through exposed crawl space vents and floors. They feed on organic materials like wood, potentially weakening joists and other support systems.
Incorrect Installation: The builders of your home might not have correctly installed the support structures. In this case, improperly installed or displaced supports can fail to offer the required stability, resulting in bouncy floors.
Over Spanned Floor Joists: Similarly, the floor joists in your crawl space may be over spanned, meaning they are spaced too far apart or are too long in relation to their depth. They could excessively flex, causing the floor to bounce.
Fixing Bouncy Floors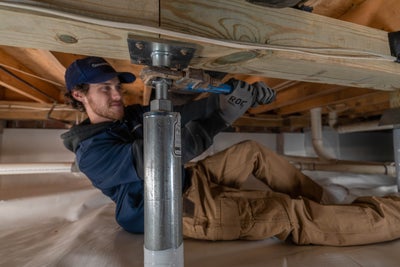 Repairing bouncy floors the right way involves identifying and tackling the root cause. Solutions could involve setting up additional supports such as sistering joists, replacing damaged joists, or installing professional crawl space support posts.
Additional measures to prevent moisture damage may be needed, including waterproofing with interior drainage and a sump pump, encapsulation with a vapor barrier, and dehumidification.
Crawl spaces usually house important home systems like plumbing and ductwork, as well as potential hazards like mold and pests. Given the confined and hazardous nature of this space beneath your home and the uniqueness of each situation, it's crucial to let a professional evaluate your home and determine the most effective solution.
Contact the Experts at BQ Basements & Concrete for Trusted Repairs
You don't have to live with bouncy floors or compromised safety any longer. At BQ Basements & Concrete, our team has the expertise and experience to identify and resolve issues with bouncy floors. We encourage you to contact us to book a free inspection and estimate to begin repairing and safeguarding your home.
For more than 25 years, we've assisted homeowners across Greater Philadelphia, New Jersey, and Delaware with home repair and protection. As part of the Groundworks family of companies, we are a respected foundation and crawl space repair brand. Trust us to deliver exceptional customer service, repairs, and solutions for your home's structural problems.
Sagging wood floors don't always need to be replaced. It depends on the root cause – whether the problem is with the floorboards themselves or the wooden joists and support system underneath. If the latter is the case, problems such as rotting or damaged wood and bowing floor joists can be fixed. This often entails installing sturdy crawl space support posts and moisture control measures in the crawl space.
While it's possible to install some repairs by yourself, it's not a good idea to DIY anything related to your crawl space. Your crawl space is a complex area, both fragile and dangerous. Rather than expose yourself to toxins like mold and pest waste, leave the inspections and repairs to experienced professionals who have the right tools, training, and protective gear.
Various factors affect the cost of your project – including the degree of damage, type of repair needed, materials, labor, and if other repairs also need to be undertaken. Get in touch with us for a free inspection and estimate for a precise pricing breakdown. 
More Resources
For more information about crawl space issues like bouncy floors, check out our resource center.