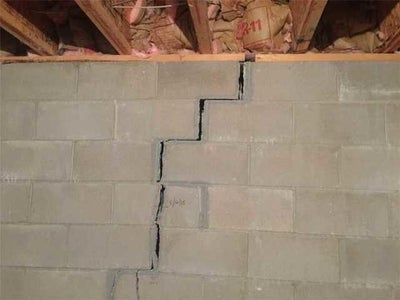 Whether you've been aware of cracks in your basement walls for a while or have just discovered them, the time for action is now.
While cracks may be common, they should never be underestimated or ignored. If neglected, these problems compromise your basement's integrity and create routes for water entry.
BQ Basements & Concrete simplifies addressing basement wall cracks. Our experienced team is equipped to inspect these cracks, determine their causes, and recommend proven basement repair solutions for lasting protection.
After reading this page, you'll understand why wall cracks form and the optimal steps to stop their progress.
What Is a Basement Wall Crack?
A basement wall crack pertains to any division, fracture, or fissure in the material composing the basement's perimeter structure. Cracks emerge when external forces surpass the concrete's tensile strength.
While not all cracks signal foundation failure, they call for swift attention to avoid escalation and potential water leaks or structural instability.
No two cracks are the same. Each crack's location, type, pattern, and width dictate its severity and the best repair methods. Our inspection process analyzes all existing cracks to prescribe tailored solutions.
Causes of Basement Wall Cracks
Several factors contribute to the emergence and enlargement of basement wall cracks. During our inspection, our team helps you comprehend these triggers, assisting with effective identification.
Improper Curing: Initial concrete curing leads to solidification and strength. Inadequate mixing, premature freezing, excessive water, and improper troweling make weaker concrete susceptible to cracking. Poor curing also heightens concrete's vulnerability to freeze-thaw damage.
Freeze-Thaw Cycles: Seasonal freeze-thaw cycles subject the basement and foundation to cyclical expansion and contraction. The concrete undergoes stress as water within the porous or cracked concrete freezes and thaws. Vertical cracks often emerge at exterior wall corners during these cycles.
Settlement and Shifting Soil: Your property's soil shifts naturally over time, stemming from saturation and expansion (as seen here) or drying and shrinking. Both scenarios cause unstable ground that cannot uphold the basement, resulting in a settling foundation and cracks under its weight.
Hydrostatic Pressure: Following rain or snowfall, subterranean water accumulates, generating a substantial force—hydrostatic pressure. This leads to wall bowing and bending. Over time, this pressure surpasses the concrete's tensile strength, causing horizontal cracks.
Tree Roots: As tree roots seek water, they exert pressure on the foundation. This damages weak points in basement walls, particularly near the perimeter where roots find easy access.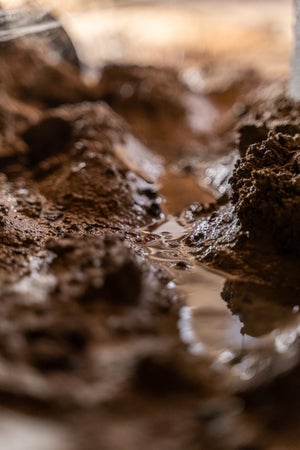 Accurately identifying the forces causing basement wall cracks dictates the most effective repair techniques. BQ Basements & Concrete offers customizable solutions to counteract these forces.
Can Cracking Basement Walls Be Repaired?
Yes, a basement wall with cracks and other damage can be salvaged. With the evolution of basement and foundation repairs, cracked walls no longer necessitate total replacement. Professionals can reinforce walls, seal cracks, and establish enduring defenses against future cracks and damage.
BQ Basements & Concrete employs various wall reinforcement techniques to shield basement walls from persistent cracks. Our warrantied solutions ensure your basement stays secure, stable, and dry for years to come.
Repairing Cracked Basement Walls: The BQ Process 
Our repair process—trusted by numerous homeowners throughout Greater Philadelphia, New Jersey, and Delaware—thrives on attention to detail and efficiency. Here's what to expect when partnering with BQ Basements & Concrete:
Comprehensive Assessment
We examine all cracks, noting their locations, sizes, patterns, and gaps. This analysis unveils whether settlement, hydrostatic pressure, tree roots, freeze-thaw cycles, or curing issues are to blame for the cracks. We also evaluate your property's soil conditions and conduct a comprehensive assessment of the foundation's overall state.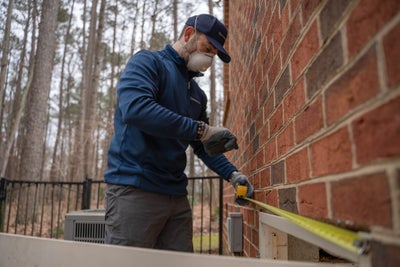 Install Basement Wall Reinforcement Solutions
We offer the following wall repair and reinforcement solutions to bolster vulnerable areas and prevent future cracking:
Channel Anchors
Carbon fiber straps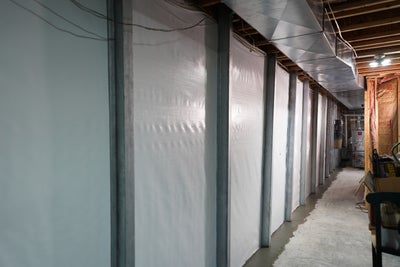 Integrate Water Management Solutions
We implement an interior drainage system, dehumidifier, and robust vapor barrier to counteract hydrostatic pressure and prevent moisture penetration through cracks. Our sump pumps actively divert water away from the foundation.
BQ Basements & Concrete's product line comprises industry-leading solutions that fit your basement's unique needs. With more than two decades of experience in addressing cracked basement walls, we have the expertise to safeguard basements and preserve their integrity.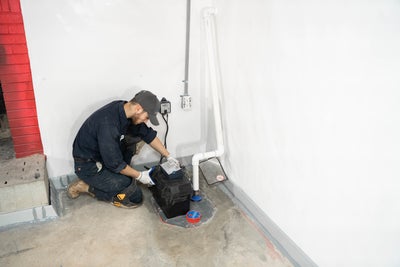 The Importance of Prompt Wall Crack Repairs
Delaying repairs until minor cracks escalate into significant foundation issues is unwise. Swift action is vital for these reasons:
Cracks get worse over time due to ongoing outside forces, often at an exponential rate.
Expanding cracks allow water seepage, leading to exterior soil erosion, flooding, and potential basement mold growth.
Ignoring cracks heightens the risk of further settlement, sinking floors, and compromising structural supports.
Repair costs increase as cracks spread and water damage occurs.
To ensure safety, substantial foundation cracks should be equipped with monitoring sensors to detect any sudden changes.
Don't compromise your foundation's integrity. BQ Basements & Concrete offers quick, effective solutions to mend existing cracks and fortify your entire basement and foundation for lasting performance. Our approach goes beyond superficial crack repairs, comprehensively strengthening basement walls at their core.
Contact BQ Basements & Concrete for Trusted Crack Repairs
Basement wall cracks can rapidly worsen, demanding prompt attention to avert foundation instability and costly water-related damage.
At BQ Basements & Concrete, we leverage industry-leading solutions to rectify existing cracks and reinforce your entire basement. We offer comprehensive basement inspections free of charge, so schedule yours today! Opt for comprehensive repairs provided by BQ Basements & Concrete experts over quick fixes.
FAQs
Not necessarily. Minor cracks are common. However, they should be repaired to avoid worsening and water intrusion. Contact the local pros at BQ for a free assessment and no-obligation repair estimate. 
Vertical cracks often signify soil settlement, while horizontal cracks accompanying wall bowing indicate hydrostatic pressure. Both require prompt repair by a professional like BQ Basements & Concrete. 
Costs vary based on crack severity, type, location, and the appropriate repair method. Labor and the expenses associated with other necessary repairs are also determining factors. Contact BQ Basements & Concrete for a free inspection and estimate for an accurate price breakdown.