Collapsing Retaining Wall 
A retaining wall does more than mark a boundary; it plays a crucial role in upholding the structural integrity of your property. 
When signs of damage or potential collapse appear in a retaining wall, it's not merely a matter of aesthetics, but a genuine safety hazard that could substantially affect your property's value.
BQ Basements & Concrete recognizes the importance of your home's security and offers expert foundation repair solutions to stabilize failing retaining walls.
This page provides insights into the causes of retaining wall damage and how professional intervention helps prevent further risks.
What Is a Collapsing Retaining Wall?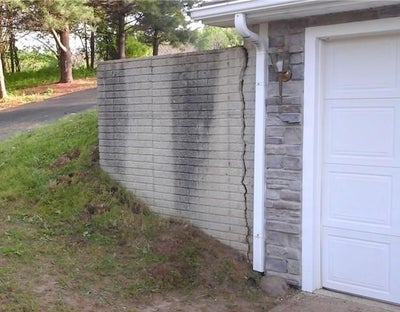 A failing retaining wall is a structure that no longer effectively holds and supports the soil and substrate it was initially designed for. This weakening manifests in various ways, including:
Cracks in the concrete or brick
Complete failure and collapse
These problems can result in soil erosion or even landslides. Additionally, adjacent foundation or basement walls may sustain harm due to an unstable retaining wall, consequently affecting the integrity of your entire foundation.
The primary role of a retaining wall is to withstand the lateral pressure of soil, allowing sloped areas to be utilized for gardens, driveways, or terraces. If a retaining wall falters, it puts at risk the stability of the level ground it supports and poses a substantial safety threat.
What Causes a Retaining Wall to Collapse? 
There are various causes for a collapsing retaining wall, including:
Poor Construction: Substandard materials, subpar design, and insufficient foundation footing contribute to eventual damage and collapse.
Hydrostatic Pressure: Lateral pressure from expansive soil can exceed the wall's resistance over time.
Water Accumulation: Inadequate drainage can result in water accumulating behind the wall, increasing the pressure.
Soil Erosion: Soil erosion at the wall's base impacts stability.
Tree Roots: Intrusive tree roots displace the nearby soil and may potentially breach the wall.
Natural Forces: Earthquakes or other seismic occurrences can destabilize the wall.
Aging: Materials deteriorate, diminishing their ability to bear weight.
Identifying the underlying issue is paramount for the proper repair and stabilization of your retaining wall. BQ Basements & Concrete conducts complimentary inspections to identify the root problem and provide the most suitable repair plan for your home.
Can You Fix a Collapsing Retaining Wall? 
Yes. Retaining walls exhibiting noticeable signs of tilting or fracturing can undergo repairs and reinforcement to stop further deterioration. However, achieving proper stabilization involves addressing the underlying issues responsible for this weakening.
Quick fixes such as adding backfill soil or applying concrete or caulk to cracks are short-term measures that do not provide lasting results.
To genuinely stabilize and potentially straighten a retaining wall, you require comprehensive wall straightening solutions that fortify the foundation, get rid of excess moisture, and bolster the structure. The most dependable approach to achieve this is through BQ Basements & Concrete's enduring, warranty-backed retaining wall repair solutions.
How to Fix a Collapsing Retaining Wall 
BQ Basements & Concrete understands that each home is unique and requires customized repair solutions. This is our process when dealing with failing retaining walls:
Initial Inspection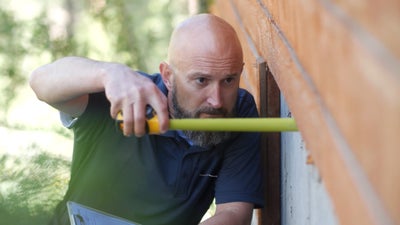 Our experts assess your home's foundation and the problematic retaining wall during a free inspection. Upon identifying the cause of the collapse, we recommend repairs tailored to your needs and budget.
Wall Reinforcement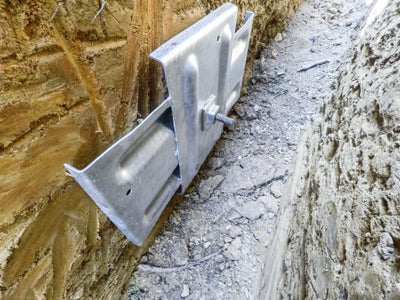 Our durable wall anchor system permanently stabilizes the wall, halting further movement and potentially improving the retaining wall's condition. We install this system by:
Excavate a trench several feet away from the retaining wall
Drill a hole into the retaining wall
Insert a connecting rod through the hole
Implant an earth anchor plate in the excavated area
Securely attach the rod and earth anchor plate
Affix a wall plate onto the retaining wall
Establish a connection between the wall plate and the rod
Backfilling the excavated soil
Tighten the wall plate and rod for potential wall improvement
Drainage Improvement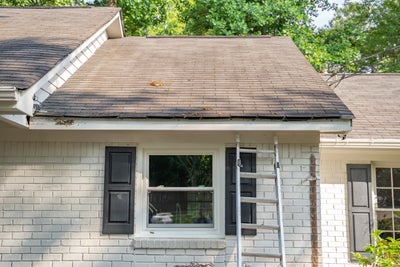 Properly installing and maintaining exterior drainage systems like gutters and downspouts is strongly recommended. These conduits serve as your initial barrier in diverting surplus water from retaining walls and your home.
At BQ Basements & Concrete, we offer an exclusive range of tailored repair solutions crafted to address your individual requirements. Our products are engineered to outperform generic alternatives, delivering more efficient and lasting outcomes.
Why Act on a Collapsing Retaining Wall Today 
Addressing retaining wall damage promptly is crucial for several reasons:
Continued deterioration may result in severe collapse and property damage.
Leaning walls pose safety risks and diminish visual appeal.
Inadequate drainage due to a damaged wall can lead to flooding problems.
Adjacent landscaping, patios, or structures may become precarious.
Both foundation and basement walls can experience similar damage and instability.
Repairs become progressively more intricate and costly with time.
A failing retaining wall can significantly diminish your property's value
Choose lasting structural solutions over superficial fixes. BQ Basements & Concrete's comprehensive retaining wall anchor repair system ensures the safety and functionality of your landscape. With our exclusive lifetime warranty, you can be confident that the repairs were carried out correctly the first time, providing peace of mind.
Contact BQ Basements & Concrete for Retaining Wall Stabilization Solutions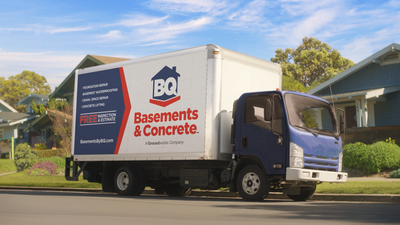 Call BQ Basements & Concrete for a free inspection if you observe signs of leaning, cracking, or buckling in your concrete, block, or brick retaining walls. Our repair experts will evaluate the damage and customize a solution to permanently stabilize your wall.
Your safety and peace of mind are important to us, which is why our work is backed by a long-term warranty. Contact us today to schedule a free inspection.
FAQs
Prominent indicators of retaining wall damage encompass leaning, bulging, cracking, and sinking, signaling a lack of proper support. This same set of issues may also manifest in nearby basement or foundation walls.  
Costs hinge on the severity of the damage and the type and scope of the necessary repairs. Contact us for a complimentary inspection, clear pricing, and available financing options. 
The duration of repairs may differ, but most are finalized within one week. A BQ Basements & Concrete expert will review project details and the expected timeframe during your free consultation.