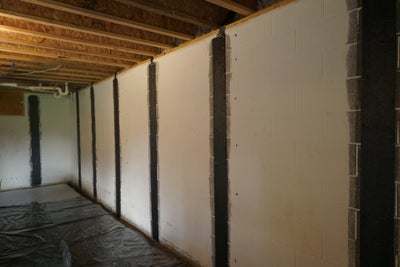 Encountering cracks and bowing in your basement walls is distressing and raises questions about your home's structural safety and resale value.
Fortunately, BQ Basements & Concrete offers a tailored solution to these pressing issues: SettleStop™ Carbon Fiber Wall Reinforcement. As a frontrunner in basement repair, we present an effective, efficient solution that secures the long-lasting stability of your basement walls.
After reading this page, you'll better understand the problems that cracks and bowing basement walls cause and our unique solution so you can make an informed decision about your home's repair.
What Are Carbon Fiber Reinforcing Straps?
SettleStop™ Carbon Fiber Wall Reinforcing straps are engineered to provide much-needed stability and strength to cracking and bowing basement walls.
Utilizing the unmatched strength of carbon fiber—which is 10 times stronger than steel when installed—our discreet, low-profile straps adhere firmly to your walls. This makes them an ideal remedy for minor to moderate wall damage.
Unlike traditional solutions, like steel beams, these carbon fiber straps are non-intrusive and save valuable space in the basement. 
Signs You Need Carbon Fiber Reinforcement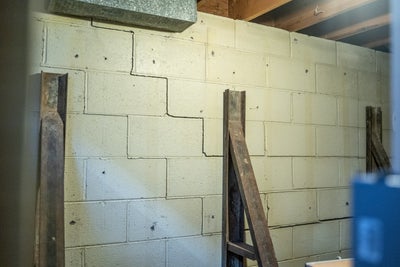 SettleStop™ Carbon Fiber Wall Reinforcement may be necessary for your basement walls if you notice any of the following signs:
Horizontal, vertical, diagonal, or stair-step wall cracks
Shearing walls (near the top or bottom
Wall movement of less than two inches
Should you face more serious structural problems, other treatments, such as wall anchors, channel anchors, or wall braces, might be necessary. For a precise evaluation, consult us for a free inspection. 
Is Carbon Fiber Basement Wall Reinforcement Necessary?
Absolutely. Putting this type of repair on the backburner negatively impacts your home's stability, safety, and eventual repair costs.
The SettleStop™ Carbon Fiber solution offered by BQ Basements and Concrete is a critical part of our comprehensive strategy to maintain your home's structural integrity for the long term.
What Are the Benefits of Carbon Fiber Basement Wall Reinforcement?
Non-Invasive Solution: The low-profile design of our Carbon Fiber straps means they can be easily hidden with a layer of paint or drywall without compromising aesthetics.
Unbeatable Structural Strength: Carbon Fiber technology provides unparalleled strength—10 times that of steel—and effectively halts any further wall damage.
Durability: Carbon Fiber is not made of metal or susceptible to corrosion, offering a more durable solution than traditional methods.
For the best results, rely on BQ Basements & Concrete's specialized Carbon Fiber solutions, which are uniquely tailored to provide superior effectiveness and durability compared to generic alternatives.
How We Install SettleStop™ Carbon Fiber Basement Wall Reinforcement
Our meticulous installation process includes: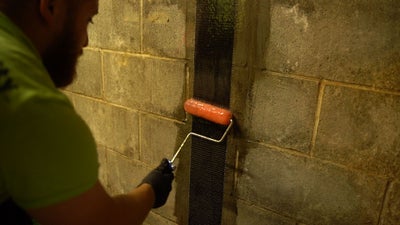 Detailed assessment of the wall condition
Marking precise strap installation points
Preparing the wall surface for optimum adhesion
Attaching a bracket to the sill plate
Applying high-strength epoxy to the wall
Securing the Carbon Fiber strap to the wall
Threading the strap through the sill plate bracket
Adding a second epoxy coating for added strength
Confirming secure strap bonding and finalizing installation
Choose BQ Basements & Concrete for expert installation, ensuring your home's walls stand strong for years to come.
Why SettleStop™ Carbon Fiber Basement Wall Reinforcement System Is the Best Choice for Your Home
Superior tensile strength
Minimal spatial disturbance
Proven prevention against wall cracking and bowing
Seamless integration with other BQ Basements & Concrete solutions
Company-exclusive
Comprehensive annual maintenance plans available
Contact BQ Basements & Concrete for Carbon Fiber Wall Reinforcement Today!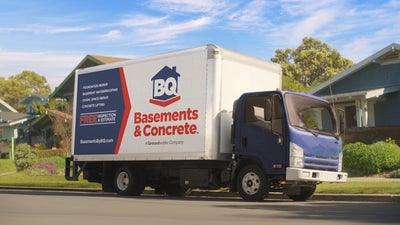 Weakened basement walls put your home and family's safety in jeopardy. Don't risk what matters most to you. Contact our team to book a free, no-obligation inspection today.
BQ Basements & Concrete has been a leader in the field for more than 25 years, offering solutions you can trust. Make us your first call and take a crucial step in ensuring your home's integrity for today and beyond.
FAQs
Carbon fiber reinforcement is suitable for most types of bowing basement walls, including poured concrete and concrete block. However, it's essential to consult the professionals at BQ Basements & Concrete to determine the most appropriate repair method for your specific situation.
Carbon fiber-reinforced walls typically do not require extensive maintenance. However, we recommend periodically inspecting the walls for any signs of damage or movement and promptly addressing them.
Yes. Carbon fiber reinforcement is generally considered a cost-effective solution compared to other alternatives like wall reconstruction. It offers a durable and long-lasting solution without the need for extensive construction.