Foundation Piers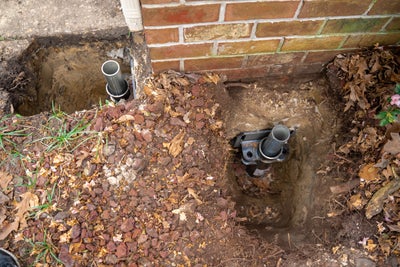 The durability and stability of your home depend on its foundation. When settling occurs, it jeopardizes the structural stability of your home and the safety of your family.
Signs of a settling foundation can manifest as uneven flooring and stair-step cracks in your walls. These problems can be distressing for any homeowner and should be addressed promptly.
BQ Basements & Concrete specializes in implementing foundation repair solutions, which encompasses the installation of foundation piers. These piers are engineered to provide permanent stabilization and potentially elevate your settling foundation. Our range of pier options, including push, helical, and slab, are tailored to suit your specific repair requirements, ensuring a secure and steady home.
Learn about the importance of foundation piers and why homeowners trust BQ Basements & Concrete for this solution.
What Are Foundation Piers?
Foundation piers are essential structural components that are driven deep into the ground to reach stable soil or bedrock, offering crucial support for your foundation.
These piers function as robust columns, enabling the weight of the home to be transmitted through them and down to a more secure foundation. They effectively eliminate potential settling issues, and there's even a chance to elevate the house back to its initial position.
By employing pier systems, you guarantee enduring stability, safeguarding your property from vulnerabilities stemming from shifting or expansive soil conditions.
Foundation piers are an important part of a comprehensive strategy for complete home solutions, including basement waterproofing, crawl space repair, and other essential measures. They play a crucial role in a holistic approach to preserving your home's structural well-being.
Signs You Need Foundation Piers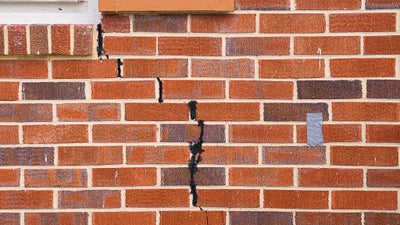 Recognizing the signs of a settling foundation is the first crucial step towards finding a solution. Be on the lookout for these symptoms of settlement in your home:
Drywall cracks and nail pops
Cracked bricks
Gaps in floors
If any of these signs are evident, it is imperative to promptly engage a foundation repair professional like BQ Basements & Concrete. We offer free foundation inspections and propose a tailored repair plan.
Are Foundation Piers Necessary?
Yes. Foundation piers are crucial for providing a permanent stabilization to settling foundations and halting any further deterioration.
It's important to address foundation settlement right away as it is more cost-effective in the long run. Delaying necessary foundation piers will result in significantly higher expenses in the future as the damage escalates.
As your local basement experts, we urge you to take action at the first sign of a problem.
When formulating a personalized repair strategy for your home, we carefully consider factors such as the type and extent of the damage. If your home experiences additional damage, like bowing walls due to hydrostatic pressure, we will recommend suitable basement repair solutions.
What Are the Different Types of Foundation Piers?
BQ Basements & Concrete uses three types of pier systems—helical, push, and slab—to handle Central and Southern Ohio's soil conditions. Each pier system functions in the same way but differs in its application.
Here's how our pier systems work and how we install them:
Helical Piers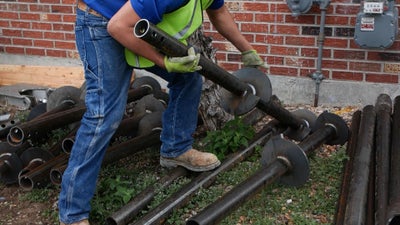 Our SettleStop Helical Pier System employs steel piers equipped with circular helical plates at their ends, functioning akin to screws to securely anchor your home into the stable soil beneath. This system assures a robust foundation for your property.
Helical piers offer versatility and are well-suited for bolstering lighter structures in diverse settings.
Helical pier installation involves:
Excavating the soil to expose the footing
Using hydraulic equipment to advance the piers into the soil
Monitoring the piers' progress until they reach the necessary depths and capacities
Attaching a durable steel bracket to the footing
Benchmarking the piers with small rivets in exterior walls
Backfilling excavated soil
Push Piers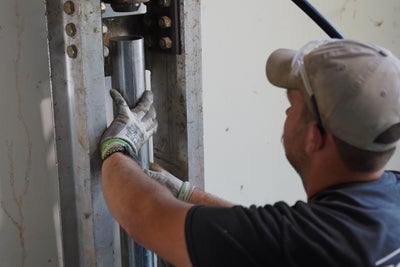 SettleStop Push Piers function similarly to helical piers, although they vary in design and installation method. Push piers comprise extended steel rods that are driven into the ground with robust machinery, relying on the house's resistance to establish stability. 
Push pier installation involves: 
Excavate soil to expose the foundation footing
Attach a footing bracket
Drive piers through the bracket, deep into the ground
Monitor depths and capacities
Place benchmarks on exterior walls
Backfill removed soil
Slab Piers
SettleStop Slab Piers offer targeted support tailored for slab foundations.
Slab pier installation involves:
Removing any flooring
Auguring a hole through the slab to expose the footing
Placing a bracket under the footing
Advancing sections of the piers into the ground
Monitoring depths and capacities
Affixing a bracket to the slab
Pouring concrete into the hole and ensure a smooth finish
BQ Basements & Concrete offers a proprietary line of foundation piers tailored to meet your home's foundation needs.
What Are the Benefits of Foundation Piers?
Our pier systems offer unparalleled strength and durability. We tailor each installation to your home, providing it with the following advantages:
Long-term Stability: Our pier systems come with a guarantee of permanent stabilization for your foundation.
Prevention of Further Settling: Beyond stability, our piers halt any further settling of your home into the ground.
Mitigation of Related Foundation Damage: Our piers prevent additional harm to your foundation.
Foundation Protection: Our robust pier systems ensure the long-term protection of your foundation.
Potential for Foundation Elevation: If our installation team deems it safe, additional pressure can be applied to the piers during installation to potentially lift settling sections of your foundation.
Comprehensive Warranty: Each pier is covered by a nationally-backed, transferable, lifetime warranty.
Choose BQ Basements & Concrete's exclusive foundation pier solutions for optimal foundation repair results. Contact us today to discover how our piers can enhance the well-being of your home.
Why Our Foundation Piers Are the Best Choice for Your Home
Here's what makes our foundation pier systems unique:
Superior to standard piers and piles
Proprietary design optimized for Pennsylvania, Delaware, and New Jersey soil
Designed for long-lasting durability and performance
Protected by a comprehensive warranty
Part of our annual maintenance service plan
Contact BQ Basements & Concrete for Foundation Piers Today!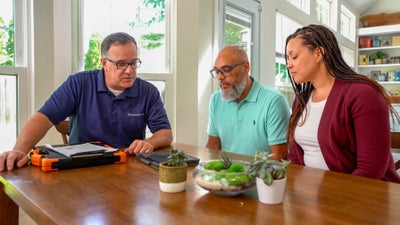 Don't overlook the significance of your home's foundation. Foundation settlement requires intervention, and it's crucial to address it properly from the start. Trust BQ Basements & Concrete to repair and protect your home.
With over 25 years of experience in resolving foundation settlement in Greater Philadelphia, Delaware, and New Jersey, our team is well-equipped to assist you. Contact us to schedule your free inspection and estimate. Trust BQ Basements & Concrete to establish a secure and steady home.
Foundation Piers FAQs
When it comes to tackling foundation settling and sinking, foundation piers are usually the most effective solution. The choice of pier depends on the severity of the damage and the type of foundation your home has. Reach out to BQ Basements & Concrete for a free inspection to identify the optimal, tailored repair for your home. 
Slab piers offer a specialized foundation repair solution designed for homes with a concrete slab foundation, rather than a basement or crawl space. Reach out to BQ Basements & Concrete for a free inspection to assess whether slab piers or alternative repairs are necessary for your home. 
Attempting to install foundation piers on your own is not advised. The process demands specialized knowledge, experience, and equipment tailored to your home's specific foundation and damage. For your foundation pier installation needs, rely on the expertise of BQ Basements & Concrete.