Helical Piers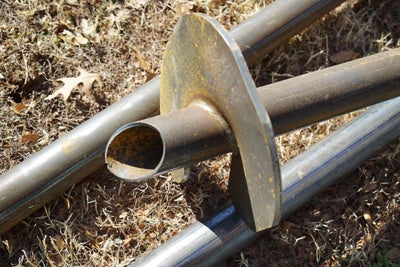 Unsafe homes pose a serious concern. Foundation settlement may cause safety hazards and structural damage that require immediate attention.
For homeowners facing such issues, SettleStop™ Helical Pier installations provide a reliable and effective solution to stabilize and repair foundations, preventing further damage.
BQ Basement & Concrete specializes in world-class foundation repairs, including SettleStop™ Helical Pier installations. Protect your home and investment by learning more about this solution.
What Are Helical Piers?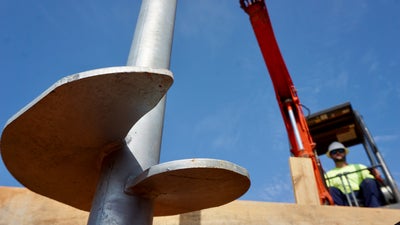 Helical piers are a reliable way to transfer loads from unstable soil to stable strata, providing permanent foundation stability and lifting settling foundation sections. These piers are made of steel shafts with helical plates that act as anchors. They work great with other services, such as basement repair, waterproofing, or crawl space encapsulation.
Our hydraulic equipment installs helical piers engineered to provide long-lasting support, ensuring your foundation remains stable for many years.
Signs You Need Helical Piers 
If you see any of these signs of a settling foundation in your home, helical piers might be the best solution: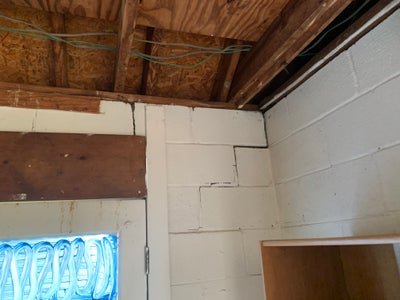 Foundation wall cracks
Cracks in drywall
Nail pops in drywall
Cracks in bricks
Uneven floors
Cracks in the floor
Gaps in the floor
It's important to address these signs as soon as possible to avoid more significant, costly issues in the future. Turning to a reliable foundation repair expert like BQ Basements & Concrete is vital to prevent further damage.
Are Helical Piers Necessary? 
Helical piers are necessary to repair foundation issues because they can lead to significant problems, such as mold growth, and compromise the structural integrity of your home. We recommend stabilizing your foundation with helical piers as soon as possible to prevent costly repairs. As experts in whole-home solutions, we take a comprehensive approach to identify all issues caused by foundation settlement and develop an integrated plan to repair your home's structure and protect your investment.
At BQ, we offer other foundation pier systems, such as push piers and slab piers, that also provide significant benefits to your home. Our experts will assess your needs during a free inspection and recommend the best solution for your unique situation.
What Are the Benefits of Helical Piers? 
Our SettleStop™ Helical Pier System is known for its strength and durability. We customize each installation to fit your home, offering valuable benefits: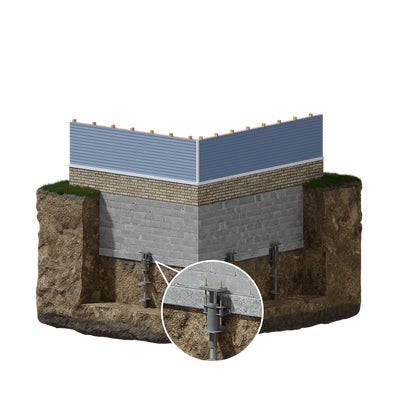 Permanent Reinforcement: Helical piers anchor to bedrock or denser soil, stabilizing your foundation permanently.
Prevent Additional Damage: Our certified team installs helical piers to stop downward movement and prevent further damage from settling.
Potential to Lift Settled Foundations: Helical piers may lift your settling foundation back into place, restoring your home's original structure.
Longevity: Our helical piers come with a lifetime warranty.
Expert Installation: BQ guarantees the highest quality of helical pier installation.
Comprehensive Home Solution: Helical piers are part of our larger home foundation repair strategy, providing an integrated solution.
Choose BQ Basement & Concrete for proprietary solutions and expert services. Our helical piers offer advantages that other products can't match.
How We Install Helical Piers 
The installation of SettleStop™ Helical Piers is a precise process that requires the expertise of foundation repair professionals. Here's how we handle it at BQ:
Site Assessment: Our experts inspect your property to determine the foundation issues and the best locations for helical pier installation.
Exterior Excavation: The crew excavates the soil to reveal the foundation footing.
Advance Piers into Soil: Hydraulic equipment drives the piers deep into the soil, like giant screws. Installers monitor the amount of torque used to install the piers.
Attach Footing Bracket: A heavy-duty steel bracket is secured to the footing. The pier is capped with a plate connecting the pier and bracket, shifting the weight of the structure onto the piers.
Attempt to Lift the Structure: Hydraulic lift equipment is used to try to lift settling portions of the structure by applying additional pressure.
Backfill and Benchmark: Disturbed areas are carefully restored upon installation, and debris is removed. Small rivets are placed in the exterior wall above each pier's location as benchmarks.
BQ Basement & Concrete is the leading foundation repair expert in the region. We're uniquely qualified to evaluate your situation and install helical piers for optimal stabilization. With BQ, you're choosing the best helical pier installation.
Why Our Helical Piers Are the Best Choice for Your Home 
SettleStop™ Helical Piers have unique advantages:
Versatility: They can be used for new construction and to repair existing foundation issues, even in areas with challenging soil conditions.
Speed of Installation: Professional installers complete the work quickly and efficiently.
Load-Bearing Capacity: Helical piers are strategically spaced to maximize load-bearing capacity, allowing them to support significant loads. They are ideal for lighter structures.
Environmentally Friendly: They create minimal disturbance to the surrounding landscape and can be executed with limited excavation, minimizing the impact on your property.
Year-Round Use: Helical piers can be installed year-round, weather permitting.
Contact BQ Basement & Concrete for Helical Piers Today!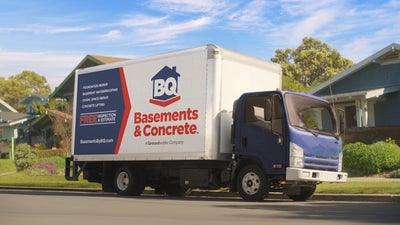 Take action to avert foundation settlement damage. Postponing repairs can lead to more severe and costly issues.
Contact BQ today to schedule a free inspection and estimate. Our helical piers can permanently stabilize your foundation and even restore it to its original position. Homeowners rely on our outstanding customer service and high-quality solutions. 
FAQs
The cost of helical pier installation varies depending on factors such as the size of the project and the number of piers required. At BQ, we offer competitive pricing and flexible financing options to make the solution affordable for our customers. 
Yes, helical piers are versatile and can be used for various foundation types, including concrete slab foundations, crawl space foundations, and basement foundations. Contact BQ for a free inspection to learn more about helical piers and whether they are suitable for your home. 
Yes, helical piers can be used in various soil types, including sandy, clay, and rocky soils. They work particularly well in our region's silt and expansive clay-based soils.