Push Piers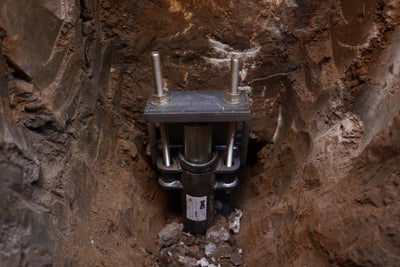 Your home is supposed to be a haven of security and comfort. However, if foundation problems are jeopardizing your home's structural integrity, both your property and your family's safety are at risk.
Don't neglect signs like cracking drywall or doors and windows that won't close properly. Ignoring such symptoms could lead to more significant issues down the road.
BQ Basements & Concrete's push piers are a trusted solution for stabilizing shaky foundations. We've been local experts on foundation repair since 1997, faithfully serving our community with our meticulously designed products.
This page will guide you through how push piers operate, their advantages, and why choosing BQ Basements & Concrete is a great decision.
What Are Push Piers?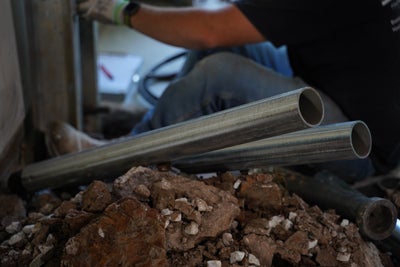 Push piers are robust steel pillars that are mechanically inserted into the ground beneath your home's foundation. These steel columns are driven deep enough to bypass the unstable soils and reach solid ground, creating a resilient support system for your home's foundation.
Our push piers work in harmony with other methods like basement waterproofing and crawl space repair to create an integrated, long-lasting repair plan for your home's structural needs.
Signs You Need Push Piers 
Indicators of foundation issues can vary, but spotting one usually suggests more will follow. If you notice any of these signs, push piers are strongly advised:
Cracks in the foundation
Drywall nail pops
Uneven floors
Gaps between walls and floors
Cracks exterior bricks
Collapsing retaining walls
Don't overlook these red flags—doing so will only cause more severe problems later and increase repair costs. This is why consulting a local expert like BQ Basements & Concrete is crucial to prevent further damage.
Are Push Piers Necessary?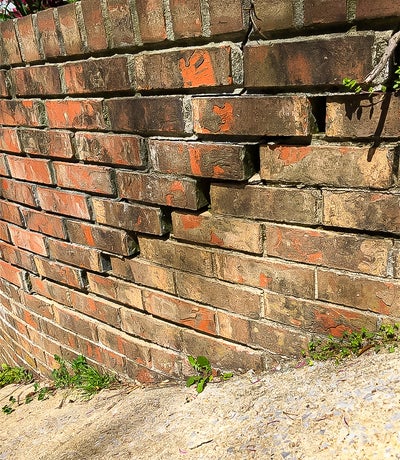 Absolutely. Installing push piers can effectively halt a deteriorating foundation. Delaying repairs will only worsen existing issues and endanger other essential structures in your home, such as walls and ceilings.
Our push piers are a crucial element of our all-encompassing foundation repair strategy. These piers can not only stabilize your foundation but also potentially lift it to its original position. Prompt action will alleviate both stress and financial burden.
Though push piers are an excellent solution, BQ Basements & Concrete also provides other pier options like helical and slab piers. Our complimentary assessment will help determine the best approach for your specific needs.
What Are the Benefits of Push Piers? 
Obviously, push piers make your home safer, but they have other benefits too. Our push piers offer several advantages:
Lasting Stability: Our piers offer a long-term solution.
Prevention of Further Issues: They redistribute the weight of your home to firmer ground, minimizing future risks.
Elevating Capability: The piers have the potential to raise your foundation closer to its original position.
Customized Depth: The depth of installation is adapted to your specific home needs.
Complete Solutions: We pair push piers with other structural repairs for a fully stabilized home.
Lifetime Assurance: Our piers come with a lifetime warranty.
To maximize these advantages, it's essential to opt for BQ Basements & Concrete's specialized products, designed with homeowners in mind.
How We Install Push Piers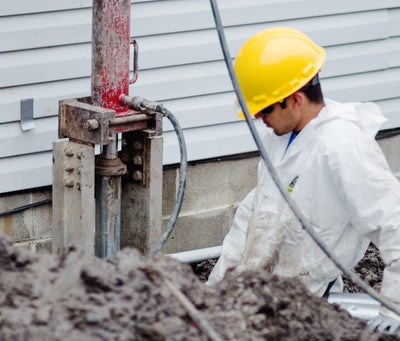 We believe in professionalism and efficiency when it comes to foundation repair. When installing push piers, we go through these steps to ensure the project is as thorough and seamless as possible:
Excavate to reveal the foundation footer
Mount a specialized bracket
Connect pier sections
Drive the piers into the ground
Document depths and load capacities
Cap off the piers
Shift the load to more stable soil
Place markers on exterior walls
Refill and rehabilitate excavated areas
Choose BQ Basements & Concrete for cutting-edge installation methods. We ensure that our piers are uniquely tailored to your home's needs.
Why Our Push Piers Are the Best Choice for Your Home 
Our push piers are industry leading for several reasons, including:
Top-grade steel
Strengthened external sleeves
Concealed installation
Regular performance assessments
Comprehensive lifetime warranty
Optional annual maintenance services
Year-round installation options
Contact BQ Basements & Concrete for Push Piers Today!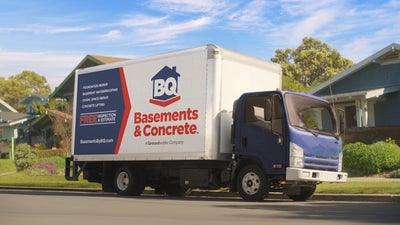 Don't compromise your home's safety due to a failing foundation. Take immediate action and invest in push piers to maintain your home as a peaceful and secure sanctuary.
For years, homeowners in Philadelphia, Delaware, and New Jersey have trusted our premium services and high-quality solutions. Reach out to BQ Basements & Concrete for a free, no-obligation inspection today.
Push Piers FAQs
BQ Basements & Concrete uses three different pier systems: helical piers and push piers. All of them accomplish the same goal— repairing shifted, settled, and cracked foundations.  These galvanized steel piers are installed directly below your foundation, using the strength of the more compact layers of soil below. This deep soil won't be affected by rain or melted snow, so they won't erode over time.  As a result, your foundation stays protected from settlement and other damage. 
All cracks in the wall should be considered serious. If a wall is cracking, it typically means it is moving. And, if a wall is moving, this indicates foundation damage. Ignoring foundation damage could lead to other structural issues in your home! 
Push piers are versatile and can be installed in a wide variety of soil types. However, the effectiveness may vary depending on the specific soil conditions present at your property. While push piers are usually great to use, it's always best to consult directly with an expert to determine if they are the most suitable solution for your foundation issues.